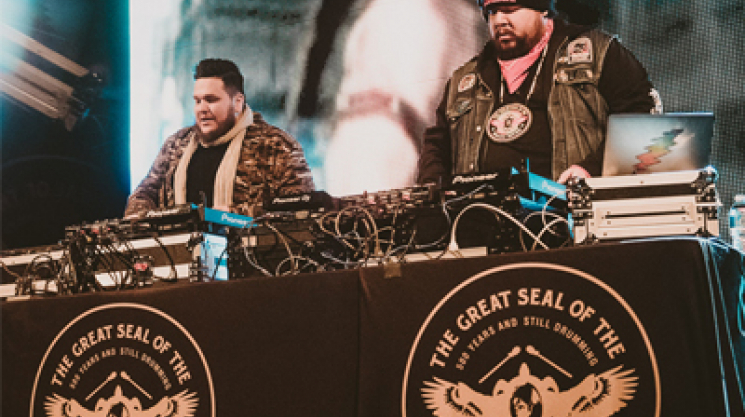 Fri, 07/26/2019 - 14:05 by karyn
Indigenous people living in Canada have continually found themselves underrepresented in so many aspects of modern culture. When A Tribe Called Red got together in Ottawa just over a decade ago, one of the main reasons was to help shine a light on indigenous culture and to be positive role models to those who have been misrepresented and, in many cases, those who have been systematically devalued. The collective has been lighting up stages ever since with their unique take on hip hop and electronic music mixed with traditional pow wow drums and vocals. ATCR just launched their latest summer tour and it was a treat to catch up with them on the road. 
 "We just got into Edmonton last night," says Bear Witness when we reach them on the phone. "We've been out for a couple weeks already. Playing club shows in California and Oregon." Summertime is ATCR's busy season. The duo's eclectic and exciting shows are tailor made for big stages at summer festivals. "Oh yeah, summer is the big time for us. We do a lot of festival stuff but also club shows as well." When asked if they prefer one to the other, 2oolman adds,"They both have their differences, ups and downs for sure, but they are both great experiences." He continues, "We just played Spokane for the first time. A club with just over 300 people and it was really fun." That ATRC can reach their audience on large festival stages and in smaller clubs is really exciting. "Normally when we play Seattle we'd have people come up from places like Spokane, so it was really cool seeing how excited people were that we were in their hometown and having people driving up from Seattle to see this show." Touring, even at the level that ATCR have grown to still has its different sets of expectations. "Playing these festival shows are good to be able to hit a ton of people at once but we are still growing constantly and that means going to new places and still paying our dues. When you have the chance to open up to new territories you always feel that some shows aren't going to be as big as others."
 This weekend ATCR will be performing as one of the headlining acts at the inaugural Constellation Festival in Squamish. The band aren't strangers to this part of the world, having performed at the now defunct Squamish festival in the past. "The first year we played Squamish was on their electronic stage and that was really cool. There was a ton of friends there performing as well, people that we've grown with over the years. The second time we played there it was one of our favourite shows that we've played," says Bear excitedly. "We played the Friday night, which is kind of before the festival officially starts, there's only one stage going and you are basically playing for the campers. We were the last act on that night and that pretty much meant that we were the only thing that people had the option of seeing." ATCR was joined that night by the Squamish Nation's Eagle Song Dancers. "They came up onstage during our set and seeing them made for a really magical show."
 ATCR will be on tour for the next couple months with dates in Canada, the US and Europe but they have fond memories of playing outdoor festivals, such as Shambala, which is where they learned their skills. "Summer Fests are fun," says 2oolman, "We end up playing with a lot of the same acts so it's cool seeing them throughout the summer in different locations. It's like a summer-long summer camp." Moving forward, ATCR has some studio time booked for themselves and a couple of their side projects when they get home. It's amazing to see that the indigenous cultures ATCR is showcasing on stages around the world have been so embraced. It goes to show that this type of representation and inclusivity is something that is sorely needed.