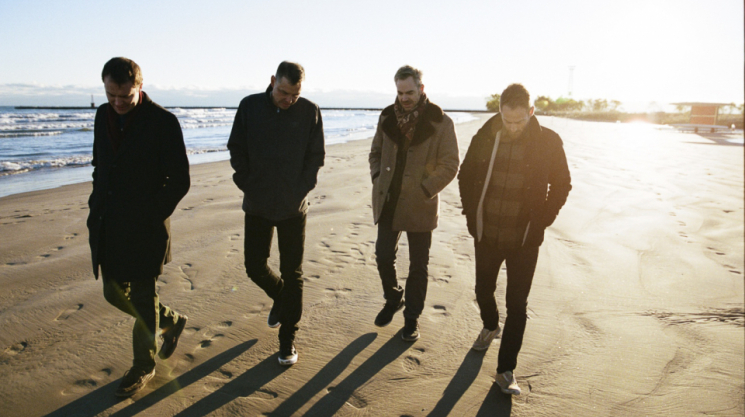 Mon, 06/10/2019 - 14:41 by karyn
Playing music is a family affair for American Football bassist Nate Kinsella. Even before joining up with cousin Mike Kinsella's reunited indie outfit in 2014, he'd both performed on and recorded various releases from his relative's long-running Owen project. For that matter, both have been involved at various points with Mike's older brother Tim's famously esoteric and conceptual Joan of Arc —and sometimes together. While eager to discuss American Football's third eponymous LP, Nate fittingly reveals he's also workshopping material for a forthcoming solo release, as Birthmark, in front of his children.
"The common thread through the whole thing is basically 'what it feels like to be a dad,' which is a huge change," he says over the phone from his apartment in New York City, moments after explaining that any incidental noises punctuating the conversation are coming from his three-month-old, whom he's bottle feeding and prepping for a nap. He adds of testing out new tunes on his eldest: "It's been fun to play that for my two year-old. She's really into music, but it's not like she catches the context of everything I'm playing for her."
A much larger audience, meanwhile, has been getting mystified by the sounds of American Football for decades now. Originally consisting of guitarist/vocalist Mike Kinsella, guitarist Steve Holmes, and drummer Steve Lamos, the then-Urbana, Illinois-based trio's self-titled debut is a cornerstone of late '90s emo, coming stitched together with heart-on-your sleeve vulnerability, ice crystal-gorgeous guitar melodies, and polyrhythmic interplay. The trio went their separate ways shortly after the album's release in the fall of 1999, but the music built up a fervent following posthumously.
Following a deluxe re-release in 2014, the act got back together, added Nate to the mix, and drafted up a second American Football, which arrived in 2016. Though structurally and sonically familiar, LP2 took a more mature approach, with Mike's vocal register dropping several keys and the subject matter reflecting his then oncoming 40s rather than re-living his early 20s.
If LP2 was more of a lateral move for American Football, it's fair to say that following up a beloved album is burdened with the weight of expectation. Having now cleared that hurdle, the quartet have hit their stride and become especially adventurous with their songwriting. Nate Kinsella notes how the group collectively pumped countless song ideas into a shared Dropbox folder before "cherry-picking" the best bits and converging upon Omaha, Nebraska's Arc Studio to track LP3. The result is epic in scope and presentation, with only two of the full-length's eight tracks sitting beneath five minutes. At first pass, the arrangements are airier, working through influences of slowcore and shoegaze, but the songs are deceptively complex. Take the gorgeous "Every Wave to Ever Rise", a phosphorescent rush which masks how Mike Kinsella and Holmes' guitar lines are technically delivered in competing time signatures that only sync up every 15th measure.
 "That's definitely a conscious effort. We want this to be something that sounds very natural— no one in the band really needs to be thinking [about] numbers while they're playing," Nate says of American Football's casual mathematics, while adding that certain parts of LP3 were written around freeform performances. "I would come up with a little vibraphone [line] that had no structure to it. It could just hang there in the air, waiting for everyone else to arrange and decide where this thing should go."
LP3 likewise took the group in a new direction via a trio of guest vocal turns. The aforementioned "Every Wave to Ever Rise" is a bilingual duet between Mike and July Talk member Elizabeth Powell, who delivers her lines en Français. Mike and Paramore's Hayley Williams duck and weave around each other on "Uncomfortably Numb," a song ultimately about drifting apart. Shoegaze veteran Rachel Goswell, of Slowdive, adds echo-blown backups to "I Can't Feel You."
"[Mike] came up with some parts that were in a higher register. When he or I tried to do them, it didn't sound right, because we're guys—there's a different quality when you sing up high," Nate explains. "I love the Bee Gees, and I love male falsetto, but that wasn't exactly what we were going for."
With an ever-expansive sound, American Football's live line-up has since ballooned to include Cory Bracken on vibraphone. It's not as easy, however, to tap either of LP3's three guest vocalists for a walk-on on any given tour date, but the group have reached out to some other friends to fill their shoes, if only for the night.
"At our release show [in Chicago] we had Jess [Price] from Campdogzz—they opened up the show and she sang a couple of tunes with us. We had another friend, Sarah [Mitchell], who actually demoed ''Uncomfortably Numb' with us, come and do that live, which was great. I think that's the idea, to have some guests do it. If no one's around, maybe I'll do it? We're just going to see what happens, [but] we've got our lines in the water."
American Football are currently on tour.
Upcoming tour dates:
06/21 - Salt Lake City, UT - Metro Music Hall
06/22 - Denver, CO - Summit Music Hall
06/25 - Santa Fe, NM - Meow Wolf
06/27 - Dallas, TX - Trees
06/28 - Austin, TX - The Mohawk
07/27 - Yuzawa, Niigata Prefecture, Japan - Fuji Rock Festival
07/30 - Beijing, China - Omni Space
07/31 - Shanghai, China - Mao Livehouse
08/01 - Hong Kong, Hong Kong - This Town Needs
08/03 - Bangkok, Thailand - RCA Live Arena
08/04 - Singapore, Singapore - Pavillion Far East Square
08/05 - Jakarta, Indonesia - Palem Studio
09/13 - Lawrence, KS - The Granada
09/14 - Saint Louis, MO - Delmar Hall
09/15 - Chicago, IL - Riot Fest
11/02 - London, UK - Roundhouse
11/03 - Leeds, UK - Brudnell Social CLub (Matinee)
11/03 - Leeds, UK - Brudness Social Club (Evening)
11/04 - Manchester, UK - Gorilla
Photo: Atiba Jefferson