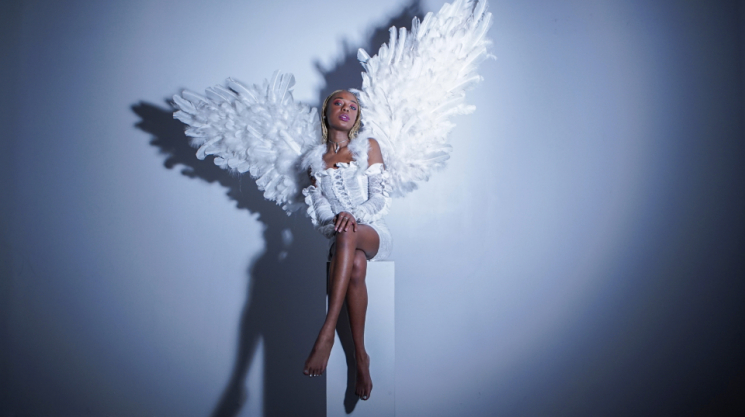 Mon, 08/19/2019 - 17:07 by karyn
"It always starts with an ending," Vancouver-based noise auteur Debby Friday intimates wisely in a cell phone conversation with ION, suggesting how growth—whether artistic or personal—only arrives once you leave the old "you" behind. From a sonic standpoint, this is reflected in the cacophonic sounds of the artist's new Death Drive EP, a digital minefield of distorted thumps that plays out even more in-the-red than her 2018 offering, Bitchpunk. That release, however, was a landmark of a different kind, chronicling Debby Friday's evolution from DJ'ing other people's music towards amplifying her own voice.
The new beginning she's taking on when reached by ION is arguably less dramatic, though no less breathtaking. Following a friendly hello, she explains that she's enjoying a visit to Saturna Island, an idyllic 31-square-kilometre island with "only one road" and a year-round population of a few hundred. After taking a three-hour ferry ride from Vancouver, she's ready to rough it on what she reveals is her first-ever camping trip.
"It's just because I'm such a city girl. I never really thought about camping as a thing that I would be into, but since I moved to Vancouver I've been doing all of these outdoor, nature-type things that I'm just falling in love with."
Fittingly, her affinity for Beautiful British Columbia™ is also on full display in the just-released music video for Death Drive's "Fatal", co-directed between herself and filmmaker Ryan Ermacora. In it, a soundtrack of industrial-tinged drums and reverb-cloudy screams score the sight of Debby Friday darting through the towering, rocky majesty of Hope, BC's Othello Tunnels. Later, she blazes towards a peach-and-heliotrope-tinted sunset on Richmond, BC's gravelly Iona Beach. Though decidedly more naturalistic, the aesthetics of the visuals match the pulse-quickening pace of Debby Friday's machine music perfectly.
On the whole, Death Drive brings together experimental hooks with extreme noise terror, building off a documented love for the spiral screech of vocal powerhouse Diamanda Galas, distorted rap outfit Death Grips, and Friday's current Deathbomb Arc labelmate, Lana Del Rabies—the two partner up on "Treason", the EP's fierce, static shock centrepiece.
"Neight Fictive" is another of Death Drive's many triumphs, and arguably stands as it's most ambitious. Above a juxtaposed backdrop of metallic clanks and mud-caked squelches, Friday's voice is presented at its most tuneful, mournfully recalling the death of God's "only son" ("I set him down by the tree/I watched him drown, then kissed his feet"). As the melody evaporates into the ether, the track distorts into a nihilistic poem on humanity's "proclivity for nothingness"— delivered by guest artist Chino Amobi— and the uncomfortable barking of an angry mob.
 "The riot is representative of the riot that we all have going on internally, the tension that we hold between our past and future selves," Friday explains. "I was grieving a lot while writing this record. I was trying to shape grief and trying to give grief a sound. For me, that represented a lot of noise, a lot of distortion, a lot of reverb—sounds that might initially repel."
Before arriving on the West Coast, Friday grew up in Montreal, where she learned to DJ. She quickly made a name for herself at local parties, and began traveling overseas to work over crowds with her selections. Friday alludes to her time as a DJ being both formative and fun, but the non-stop party atmosphere took its toll on the musician, both physically and mentally. Knowing she needed to escape the club circuit, she swore off substances and became determined to put energy into making her own music. She celebrated two years of being sober this past July, just a couple of weeks ahead of Death Drive's release
Though admittedly no longer a "party person," Debby Friday still has a mind to perform for the masses. She's currently working on a Masters in Fine Arts, with a focus on interdisciplinary studies. This has led to a series of art installations navigating the relationship between sound and vision, as well as There, A Sound: Shouting As Aesthetic Practice, a paper which contemplates, among other things, the impact of making yourself heard. Her academia runs parallel with her music career, which she hints will ramp up in 2020 via some strong touring behind Death Drive. Despite her earlier struggles, Friday's managed to pull something positive out of those experiences.
"It's about owning that shadow aspect of the human psyche," the artist explains of pushing herself. "It's difficult to look at yourself as a human and think, 'how can I be self-destructive? How can I want what's not best for me?'" 
Being unafraid to ask those questions has opened Debby Friday up to a fruitful period of artistic creation. "Fatal", for instance, is the first video Friday has directed, adding yet another skill to help fulfill her total vision. While Friday is found at one point darting off into the utter darkness of Othello Tunnels, she soon emerges confident—dancing, even.
When asked about the kind of clarity she's gained by staring into the void, Friday offers:  "I think it's an ongoing process. I'm still becoming comfortable with the different parts of my shadow."
Words by: Gregory Adams
Photo by: Xin Yue Liu