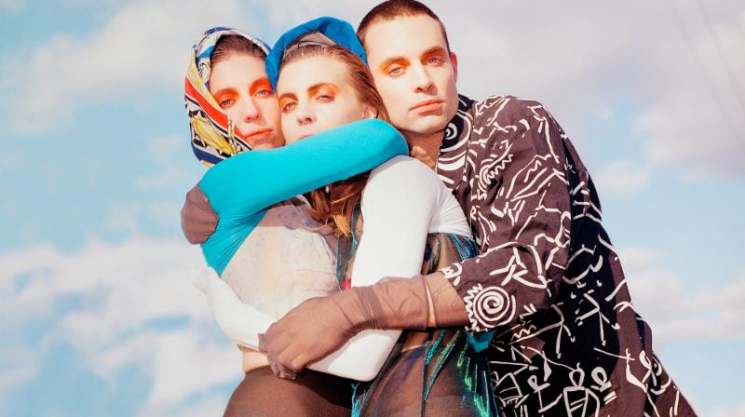 Mon, 06/17/2019 - 15:11 by karyn
There are those nights where you and hundreds of your closest friends are all gathered in the dark, dancing together to a band or a DJ, and then all of a sudden it's not just you and them but it's us. A collective mass pulsating to the music. A singular organism moving to and within every single note that is playing. This is what DOOMSQUAD is all about. The Toronto-based dance act wants to push the idea of what identity is. Blurring the line between oneness and togetherness, DOOMSQUAD isn't so much a band of siblings playing bold, brash and dynamic dance music but one organism, pushing past gender and sense of self and merging into one "Super Form". This "Super Form" takes front and centre stage on the band's newest album, Let Yourself Be Seen. 
When I reach DOOMSQUAD by phone while they are on the road in the UK, I ask if they can expand on that idea and what exactly it all means. "Since the beginnings of DOOMSQUAD, we've been trying to push this project as a one headed, one minded being. We all write together and sing together. We play all the instruments, It's a communal project. There's not one person driving things. We've always been interested in post structuralist, existential philosophy and it all seemed to really crystallize for us with the new album." Let Yourself Be Seen is a record of big ideas. Not only is it forward-thinking musically but also thematically. It tackles modern dance music and culture with a fervour that hasn't been seen or heard since the early 1980s New York club scene when post disco, dance music combined with post-punk and hip hop converged these disparate scenes into one. Creating a inclusivity that has been making more of a mainstream comeback in recent years. Let Yourself Be Seen picks apart all those genres and more, including acid house, new wave and ambient music, and creates something, if not totally new then, totally DOOMSQUAD.
 "Being a group made up of siblings," DOOMSQUAD explains, "is tricky because a lot of what we are doing is in our own head. There are a lot of ideas that we wanted to come across in our music, that we felt was, but it was mostly just between us. So, for this record we felt we needed to spell things out a bit more then we have in the past but without talking down to people or being too on the nose." Something that comes up a lot these days is how people tend to interact on social media and DOOMSQUAD didn't want to just be another voice yelling into the void of Twitter. "We assume that our audience and that our prospective audience doesn't want to be talked down to. Nothing that we are saying isn't necessarily new. We are echoing ideas we agree with, not teaching. There are enough people out there shouting at the top of their lungs and we didn't want this to be preachy at all." 
Preachy it certainly is not. Let Yourself Be Seen comes across as a celebration. A celebration of music and people. Take tracks such as "Emma", a reflection on anarchist and activist Emma Goldman, and on album highlight "Dorian's Closet", a song honouring New York drag queen Dorien Corey; the album is here to uplift and put the spotlight on some of the personal heroes that DOOMSQUAD wanted to glorify. 
Now finally on the road with Let Yourself Be Seen, they are excited to be able to share all these ideas and stories of their heroes with a bigger audience than they have been able to reach in the past. "We started this album cycle playing a couple quiet shows in Ontario. We are working with all these new songs and because we wanted to do it right, new hardware. We wanted to use all the gear we used to record the album with so hopefully by the time we get back to Canada we should be at our golden moment," DOOMSQUAD laughs. "We haven't had a chance to really tour in Canada before, it's so big and expensive. Now working with the new label we have the infrastructure to do it and we are excited to reach a bigger Canadian audience."
DOOMSQUAD is currently taking Let Yourself Be Seen across the US and Canada before they move on to other parts of the world, so if you do see them coming to your city, take a chance and hopefully you will be able to spend the night with a couple hundred of your friends dancing in the dark -- or, even better, as one singular being, sharing not only the beautiful and thoughtful ideas the band represents but also the undeniable dance music mastery that DOOMSQUAD so clearly has on display.