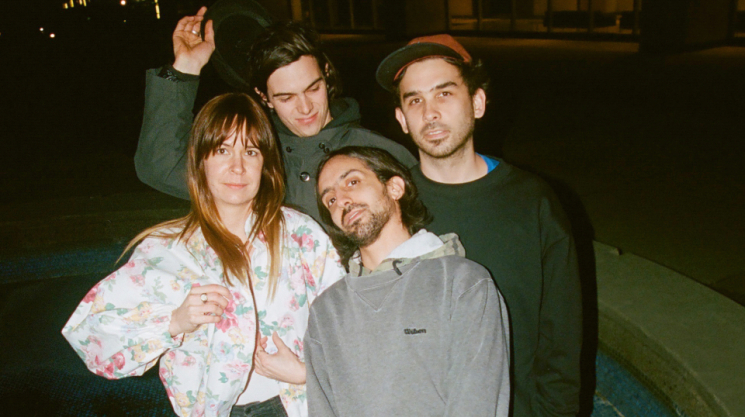 Tue, 07/16/2019 - 04:37 by karyn
"That's what it said: go along this dirt road for 6.25 kilometres."
Guy Debord, Beyond Meat breakfast patties, and scene politics are all topics that pop up during ION's conversation with Vancouver's Dumb, but when the quartet are first reached via vocalist/guitarist Franco Rossino's cel phone, the band are mostly concerned with figuring out where they're going next. Not in an existential kind of way, mind you, or what their musical trajectory could be following the recent release of Club Nites— their fourth full-length of anxiously contemplative post-punk—but quite literally where the van should be heading to make the next tour stop on time. On the new record's "Content Jungle," Rossino wryly hints at the duplicity of targeted ads and Netflix recommendations, but he seems to be the only one in the band who isn't sceptical of the Google mainframe when they're diverted onto a deserted dirt road somewhere between Calgary and Regina.
Eventually they'll be playing to a group of Saskatchewan indie fans on the third date of a two-week North American tour, but while traveling and playing music is an ideal many strive for, being in a venue is a bit of a mixed bag for Dumb—Rossino, bassist Shelby Vredik, guitarist Nick Short and Drummer  Pipé Morelli. Case in point, the record's opening title track is a brilliantly twitchy mock ode to the scene, with elastic-snap bass lines and jarring barre chords backing Rossino's sprechgesang derision of all the PDAs, bad convos, and drunken nonsense that come along with nightlife. "A lot of it does have to do with social climate," Rossino confirms of Club Nites' overall tone. "A lot of lyrics are specifically about being out, drinking, and enjoying yourself, but it's not all about that. A lot of it is also about being critical and engaging with your community."
Sure enough, Rossino can be especially pointed when confronting the folks around him.  Take "Beef Hits", a wiry kiss-off to an opportunistic social climber on a quest for scene clout ("you're only here to improve your pubic face, and I'm your chance at the high life"), which comes punctuated with scrappy bursts of six-string noise and a wildly skronked sax solo from guest brass master Ridley Bishop. The lusciously lean jangle of "Knot In My Gut" juxtaposes a backdrop of bickering and screened calls.
Though often taking stock of life in Vancouver, Dumb also use their music to allude to the social upheaval of the Paris student riots of 1968 (referenced in "Slacker Needs Serious Work"), while Rossino notes that parts of the album were somewhat inspired by the mass media theories of French situationist Guy Debord's The Society of the Spectacle, as well as its self-deflating follow-up, Comments on the Society of the Spectacle.
 "A lot of what they were talking about with the Spectacle was the fact that the commodification of labour has become the commodification of information. Labour has no value anymore; the only thing that actually has value is information. That was written in '68. Now it's 2019 and it makes even more sense." While mass media and information overload are highlighted on pieces like "Content Jungle", Rossino clarifies of Dumb's intentions: "I don't think we're trying to preach about the Spectacle as much as we are trying to engage with our immediate society in a real way, in order to negate the Spectacle."
Despite its academic roots, Club Nites is ultimately a party record, it's high-tension pacing a testament to the fact that sometimes the party gets amped up and stressful. Dumb are bringing that anxiousness out on the road—a full European tour is booked for the fall—but they also know the value of decompressing and taking time for yourself. Or, at least, they're trying to. "I definitely need to remind myself to do that because I can habitually busy and go hard for a long time," Short says, admitting they've experienced their fair share of stress-instigated acid reflux.
Franco's cure-all for cutting the tension, meanwhile, is steeped right into Club Nites' lyrics. Between the minty beverage referenced on "Don't Sleep" and casual, contemplative sipping that takes place in "CBC Radio 3", sometimes all you need to get by is a comforting cup of tea.
"It's pretty much communicating the feeling of needing to collect yourself," he says of the ritual. "It's not even so much about the flavour. It doesn't need to be caffeinated, even. It's more the act of preparing a cup of tea, putting hot water in it. You could just [as easily] go to the tap and fill up a cup of water and just have some water, you know? But instead you're putting some chamomile in it."
Tour Dates:
06/27 Philadelphia, PA - Cousin Danny's
06/28 Brooklyn, NY - Alphaville 
06/29 Providence, RI - House
06/30 Montreal, QC - La Sotterenea
07/01 Toronto, ON - Baby G
07/02 Detroit, MI - The Beaconsfield
07/03 Eau Claire, WI - The Venue
07/04 Madison, WI - The Castle
07/05 Fargo, ND - The Aquarium
07/06 Regina, SK - Grind Central Festival
10/04 Freiburg, DE - Swamp 
10/05 Zurich, CH - Rothaus
10/06 Dijon, FR - Deep Inside 
10/08 Nantes, FR - Lune Froide 
10/09 Rennes, FR - Bistrot de la Cité 
10/10 Paris, FR - La Boule Noire 
10/11 Bristol, UK - Hy Brasil 
10/12 London, UK - Schacklewell Arms 
10/13 Manchester, UK - The Eagle Inn
10/14 Glasgow, UK - Broadcast 
10/15 Oxford, UK - Wheatsheaf
10/16 Brighton, UK - The Hope & Ruin 
10/17 Ghent, BE - Charlatan 
10/18 Rotterdam, NL - Left of The Dial Festival
10/19 Hamburg, DE - Molotow
10/21 Aarhus, DK - Tape 
10/23 Berlin, DE - Schokoladen 
10/24 Cologne, DE - Bumann & Sohn 
Photo by: Marisa Holmes