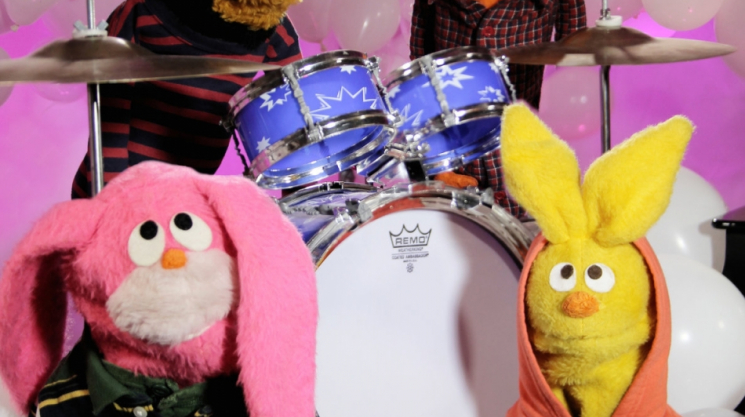 Thu, 06/01/2017 - 12:08 by karyn
Feltworth think the kids are all right, but the power pop puppet band themselves are more than ready to grow up. Following a long run on the children's music circuit, the animal kingdom quartet of brother bunnies Dezi and Manny Feltworth, ivory-tickling tabby Morris Katzenburd, and percussive primate Cozy Balboa have just issued their first 7-inch single made for an older audience. Manny's A-Side, "Forget This Feeling", is an English glam slam that has more in common with Roxy-period Brian Eno than it does Elmo. On the flip, you've got lop-eared bass thumper Dezi's "You Turn Me On," a ballad that's got him burning with desire. The tonal shift led to their management giving them the boot, and original singer Gabe--a sentient, prog-rock loving sunflower--leaving the band. You've got to hand it to the newly independent Fabric Four, their new tunes are rawer than "Row, Row, Row Your Boat."
As their back catalogue fades from memory (ed. Suspiciously, you can't even find listings for Felty, Felty Places or Beanbag Town on Discogs.com. It's almost as if they don't exist.), ION got the Feltworth brothers to weigh in on their bold new sound, their bandmates' bad habits, and what it's like to be pulling the strings themselves.
ION: The new single is your first since becoming burnt out on kids music. How important was it for Feltworth to break out of their routine? 
Dezi: We have been fantasizing about it for a long time. Our original singer, Gabe, is still quite successful as a children's entertainer, even though his music is crazier than even our rock stuff. 
Manny: I was, and am, still nervous about moving in a different direction and leaving our audience behind. Though, yes, I'm personally tired of rhyming ABC and 123 and the like, and would rather be able to tap into music that I actually listen to. I wonder if Bowie was nervous when he retired Ziggy and created the Thin White Duke? On the other hand, Bill Watterson simply retired his comic strip Calvin and Hobbes and didn't move on to a second act. Maybe we should bow out while we're on top of the children's game. I don't know...but I'd rather try than regret not trying.
ION: Feltworth have been writing original music since Beanbag Town, but there's a world of difference in the sophistication between something like "The Feltworth Stomp" and "Forget This Feeling." What was the biggest challenge with writing for a broader, less kid-specific audience?
Manny: Writing kids music was actually becoming the real challenge. I couldn't personally identify with what I was writing about anymore. I think Dezi feels the same way, and he's been writing kids music for longer than I have! Rather than putting myself in the mind set of a pre-schooler, I actually find writing about my own life is easier. It's like what Nora Ephron's mother said: "Everything is copy."
ION: Manny's rocking a Pretenders button in the video for "Forget This Feeling," but what are some of the other influences smeared into Feltworth's current sound?
Dezi: I like The Sweet and The Beatles; Manny likes Prince, the Pretenders, the Beach Boys… you name it. He's the musicologist. Cozy likes Joe Walsh and Bread. Morris likes Eno and Phillip Glass. 
Manny: Yeah, Dezi's right. I like them all. James Honeyman Scott may be my favourite guitar player. Janice in the Electric Mayhem is not too shabby either. She was an influence when I was quite young. Also, is Joe Walsh making a comeback? I just read an interview with the Lemon Twigs, and one of the brothers cited Alex Chilton and Joe Walsh as his two sources of inspiration. Two names I've never seen in the same sentence, let alone the same magazine.
ION: As brothers, your voices naturally mesh together, but how musical is the rest of your family? Can you tell us a bit about what it was like growing up in the warren?
Dezi: We are from a litter of 14. Manny is the youngest, I'm in the middle. They couldn't keep track. We are the only ones who really took to music. 
Manny: It's hard to keep up with everyone. I'm the youngest, but really we're all only hours apart. Sometimes our brothers and sisters would come out to our shows and bring their own 12 to 15 kids. It would get a bit hectic backstage. It was a challenge making sure Cozy wasn't doing anything off-colour.
ION: Dezi, you're taking the lead on a beautiful ballad on the B-side called "You Turn Me On," but, really, how hard is it to get a rabbit excited? We know all about your mating rituals.
Dezi: We really wanted to make a break from the kids stuff. These lyrics are a little "hornier" than what we are known for. We are not creeps though.
ION: Morris seems like the most laidback member of Feltworth, but there's still something distressing about a natural predator playing his piano right behind you two. How sure can you be that this cat won't make a meal of you if he gets hungry in the middle of a set?
Dezi: Morris is pretty relaxed all right. He's not going to eat us; I've never even see him eat. If I were a beer in a green bottle, I would get nervous.
Manny: He only really likes French food, [and] lots of wine. He never steals my fries.
ION: Your behind-the-scenes videos reveal that Cozy can be a beast behind the kit, but you've managed to tame him enough to get some solid drum takes in the studio. What's it like working so closely with such a primal player?
Dezi: Morris is a calming influence for Cozy. He is a great drummer, but not at all disciplined. He doesn't take instruction well. You get what you get.
Manny: The crazy fill at the beginning of "Forget This Feeling" was how Cozy wanted to play throughout the whole song. I didn't think that was ideal. It took many takes to get him to calm down and just play some "time" so we could get the track on tape. I agree that he doesn't take instruction well. It's going to be a challenge reigning him in for recording the full LP now that he's off the leash of children's music. Cozy even has a song of his own that he wants to have on the new LP. I can only imagine every lyric will be using the word "party" as a verb.
ION: How is Feltworth's schedule right now? What else can we look forward to from the group?
Manny: Just hoping to get to work on the full length pop/rock record and to figure out how to fund the whole thing. We have the songs though. It's going to be good. 
Dezi: Our management is pretty down on our musical change, so I'd love to get at least 300 followers on Instagram so we can rub it in their faces.
Feltworth's "Forget This Feeling"/"You Turn Me On" 7-inch single is out today through the band's own Dezman Productions. As of press time, they have 235 followers on Instagram.