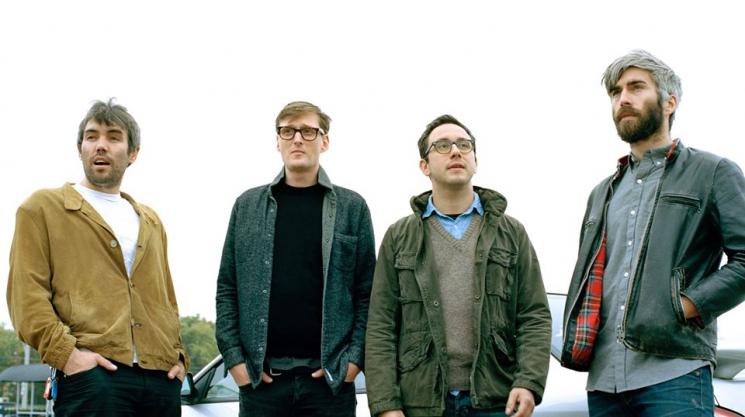 Wed, 07/24/2019 - 08:57 by karyn
As a member of Tokyo Police Club, Graham Wright isn't a stranger to hooky pop songs. With his new project, Girlfriend Material, the talented musician steps things up on the ear worm scale with his take on power pop indie rock firmly directed to the people that grew up on this brand of hit and find themselves entrenched in their thirties, still negotiating similar situations they've found themselves in over and over again. The spectre of the past looms large over the proceedings but now there's a sense of self-awareness instead of bitterness. Plus, it's super fun. 
Wright came up with the idea of the new band when writing songs for a horror movie he directed in 2017. When we reached Wright at his home in Toronto, the affable songwriter laughs a little about how the whole project came about. "Oh, the horror movie," Wright laughs over the phone. "I kind of glossed over that part. Around 2014 I was getting more and more into this concentrated effort of writing scripts. Me and my pals were joking around one night about what could be the stupidest movie you could come up with, and thirty minutes into this riff about a killer Roomba I decided I needed to write this thing." Wright explains that he believed it would be good practice with low stakes, but after awhile this all changed. "I got way too ambitious and overwrote the script, but out of all this the new band came about." Wright needed some original songs to complement the movie so he took it upon himself to try his hand. "I hadn't written a song in years, and every time I picked up my guitar I would get bogged down by trying to write really, really good lyrics to these songs. Within the first three days of writing for the film, I already had about fifteen songs," he says with a knowing laugh. 
Unfortunately, starting a new band was something that happened desperately slowly. "Tokyo got busy," he explains, "and I was all over the map and it seemed like a weird thing to purposely form a new band." Wright did eventually get things together to form Girlfriend Material with fellow Tokyo Police Club cohort Josh Hook on guitar and Hollerado's Jake Boyd on drums, and finally rounding out the line up with bassist Joseph Garand. Wright would also like everyone to know that this is a bonafide band. "I do consider Girlfriend Material a new band, not a side project or, heaven forbid," he laughs, "a supergroup!" Their debut album Cool Car is a real treat for fans of the genre. It forgoes acoustic guitars for electrics and genuinely rocks for its complete running time. Lead single "First Of The Month" tackles the unfortunate situation of a couple breaking up and having to move into new apartments. "You can leave your shit here while you look for a new apartment," Wright sings matter-of-factly overtop of shredding guitars and hard hitting drums. While on "Emily's Famous" the band takes on what happens when one member of a relationship becomes inexplicably famous and the other half can't get ahold of them anymore. Sure, it's played a little tongue in cheek, but there is real emotion on display, keeping things very grounded and real. 
Now that Cool Car is out and released in the world and Girlfriend Material is standing firmly on their own and away from the other bands that defined them as individual musicians previously, Wright seems happy with the way things have shaken out since he tried his hand at directing a horror movie about a killer cleaning product. "Using the fact that we've all been in these other bands is just a good way to get people to pay a little more attention, but I believe the music justifies itself. It is a kick ass record." It truly is a blast from front to back and that has rejuvenated Wright. "I have been having fun writing songs again, it's been a bit of an explosion of joy!" The explosion of joy is very apparent all over Cool Cars and it's exciting to see where this new found elation will take Wright next.