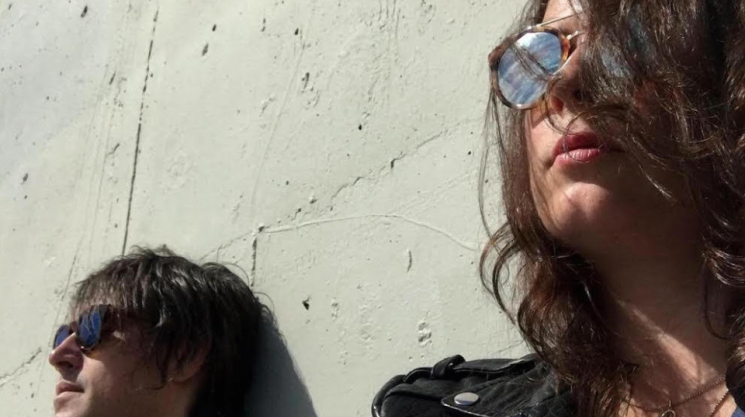 Tue, 10/29/2019 - 09:02 by karyn
Sometimes there's a disconnect in our heads regarding things that seem more difficult than they actually are. When we reach Amber Webber, the very engaging front person of psychedelic pop purveyors Lightning Dust, she's in the West End of Vancouver in between appointments. "I don't find myself down here very much at all. It's always one of those parts of the city that seem out of the way," she laughs, "but it's right there. A quick ride on the train away." Webber and partner Josh Wells are readying the release of their latest album Spectre, a beautiful collection of moody yet ultimately optimistic songs and one that made an interesting journey to its completion, like the trip that seemed too far away but was actually a lot closer than was thought. 
Both Webber and Wells were founding members of popular riff rock outfit Black Mountain and even though the pair have been writing and recording music in Lightning Dust since 2007, when they decided to leave Black Mountain there were some unforeseen challenges that defined this change and led to what Spectre became. "After we left Black Mountain, I was kind of going through something where I thought I should do something different with my life," she explains, "I went back to school. I was doing work previously with senior citizens and I got the opportunity to go to school for it." Going back to a more regimented life was one that made Webber realize that maybe this wasn't exactly what she was looking for. "After years of touring to being in a classroom eight hours a day made me crave the arts so much," she says, "Just in general, I was so busy with music before and exhausted with it that I didn't give it the time to realize that this is what I actually want to do." Webber found herself with some downtime and it all just came together. "Josh was away on tour with Destroyer and I was home alone and bummed out and kind of felt like, maybe, felt sorry for myself and I just started writing like crazy," she explains with a laugh. "First time in over ten years and I came out of it with an album." Writing this way was something of a new experience for Webber. "In the past, myself and Josh would bring a bunch of music to the table and then I'd add guitar and write the lyrics. This one I did mostly on my own. It was really neat for me," Webber explains. "It has always been challenging writing lyrics over other people's music, and this was challenging but in a different way that I really enjoyed." 
Another aspect of Webber writing this album on her own was that she was able to directly confront a lot of her experiences as a woman in the music industry. Webber is quoted in her press release as saying the following about the record: "It's for all the women warriors that have been battling throughout life looking for a place to express themselves that feels inclusive and inspiring. It's about finding yourself when no one is paying attention and inventing a new way of creating that feels honest and sincere. I truly feel that women, especially as we age, are underrepresented. That was truly the driving force to creating this album." Webber expands on this while we are chatting, "I felt like there was a thing, a sense of being banished," she continues. "There's this lack of representation of women in music that gets discouraging. I've had many women friends that want to give up because they feel underrepresented." The thoughtful singer and songwriter wanted that message to be a hopeful one to her listeners. "Driven by that, it entered my mind. I want to write music and hopefully inspire women to do the same. Women in touring bands have to deal with a lot. You feel like you need to dress different or people tell you you need to or they say they don't know how to market you. I've tried to never feed into that too much but I also feel like it's more repressive now." Webber mentions that when she was growing up there seemed to be more of an abundance of cool women that played rock 'n' roll music that inspired her and she wonders if that is still a thing for young women coming of age who want to make a living making music today. "I'm sure women had it hard back then as well but it seemed in mainstream music there were a lot more women singers," she says. "Maybe it was more in fashion and they were all kind of badass. Do girls now still want to be in or go to, like, Riot Grrl shows or do they just want to be Ariana Grande? I don't know."
With Spectre, Webber will most definitely inspire contemporaries and new artists alike with her unflinching songwriting and performance. While the record does feel dark, there are many moments of light and levity that help it from sinking into too much melancholy. "It's a bit of a story album," she explains. "There are some hopeless moments on it for sure. When your world sort of blows up, there is always this new beginning. On the last song the mood that I was trying to create was like after an atomic bomb scenario; you climb out of the rubble and realize it's actually beautiful." Quite beautiful it is. The album does take you on a journey. One through darkness and back into light again. Maybe it's like that one thing you thought was too far away or, like Webber herself, one she had to almost abandon before realizing it was never going to actually go away. "I may come across as a cynic and even grumpy to some people," she says with a chuckle, "but in my heart of hearts I am an optimist for sure." With Spectre, this comes across abundantly clear.
Words: Adam Fink
Photo: Lightning Dust