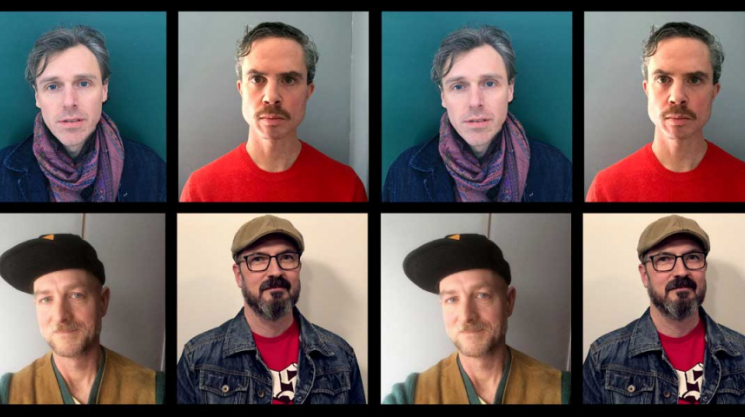 Wed, 09/04/2019 - 12:15 by karyn
Nostalgia's a hell of a drug. At its best, getting wrapped up in a sentimental memory makes us appreciative of the events that have shaped us into who we are today. Other times it makes us hoarders, unable or unwilling to let go of the past. It's a rainy Monday in Dartmouth when ION reaches Joel Plaskett at home, and despite being neck-deep in old birthday cards and other assorted ephemera, the Maritimes-based singer-songwriter is doing his best to keep his head above the deluge of personal history.
"I'm wading through piles of receipts, chucking out bits," he says over the line. "We have an 11-year-old, and it seems like once a week there's an entirely new pile of things that you can just chuck out and no one would notice....I'm just as guilty, I have stuff everywhere."
He continues: "I'm 44 now and there's still stuff I'm hanging onto that's 25 years old. [My son's] sentimental about pieces of Lego— if one goes up the vacuum cleaner, he freaks out. But we do what we can. There's usually a barter system: if you want to bring something in, something has to go out."
Between purges, Plaskett has been playing shows with longtime back-up band the Emergency, as well as prepping material for a new LP. But while excited about evolving his craft, the musician is specifically on the phone to discuss getting back on the road with Thrush Hermit, the beloved Halifax four-piece that cemented their place in the CanRock pantheon during an early '90s East Coast boom that also produced Sloan, Jale, Eric's Trip and the Super Friendz.
A touch scrappier than their contemporaries, not to mention younger, Thrush Hermit's initial arc found them radio-blasting hooky alt-pop before morphing into the reckless, '70s riff rock-referencing, aviator shades-sporting hydra that produced 1999 swan song Clayton Park.  Two decades after Sonic Unyon issued the shaggy masterpiece on CD, Plaskett decide to repress the record through his own New Scotland imprint this past spring.
"Clayton Park has never been out on vinyl. It's 20 years old; it's been out of print; it didn't exist in any streaming universe; people have been asking about it," he says, noting that the reissue naturally stirred up his interest in getting the band back together. "I just floated an email to the guys. 'Do we want to do anything around this?'"
At the time of his call with ION, Plaskett, guitarist Rob Benvie, bassist Ian McGettigan and drummer Cliff Gibb had yet to rehearse for the trip.  In fact, the last time the four of them were in the same room together was during their first reunion tour in 2009. Despite this, Clayton Park was a formative moment for the act, a mission statement of cranked amps and lip-curling swagger that still twitches in their muscle memory. "That record was the last thing we did and I think it's fairly etched into our collective conscious. But Cliff, our drummer, I know has been [practicing] at home on headphones, getting himself back into it."
Plaskett, Benvie, and McGettigan grew up together in Clayton Park, a suburb of Halifax, and started writing music as Nabisco Fonzie when they were 14. Along the way they found drummer Gibb and recast themselves as Thrush Hermit, whom Sloan took under their wing. A pair of EP's—1993's Smart Bomb and 1995's The Great Pacific Ocean— were released through the older act's Murderecords. The former's "French Inhale," a neon lightning bolt of teen desire with a doom-pop chorus, got significant airplay on MuchMusic.
Thrush Hermit would sign up with Elektra for 1997 full-length debut Sweet Homewrecker, but the major label release didn't get much of a push stateside; Plaskett remembers innumerable poorly attended U.S. shows. While initially feeling defeated, playing empty clubs would free up the band to experiment onstage, twisting their sound towards big guitar bends and hallucinogenic jam rock.
"Sloan were a big part of [our early] sound, I think that influence shows up in our early records. We were also really big on Superchunk— I think The Great Pacific Ocean is a testament to that," Plaskett explains of Thrush Hermit's sonic evolution, "but running alongside that, our first musical love was Zeppelin. We were all pretty deep into Zep when we were 13-14; that never really left us. We'd be on the road listening to Sabbath and Led Zeppelin. I got really into obscure hard rock for a while, too. We would listen to Budgie, or Cactus, the post-Vanilla Fudge band that had Carmine Appice and Tim Bogert."
Fittingly, the gloominess of Black Sabbath six-stringer Tony Iommi is seeped into sludgy Clayton Park mind-melter "Violent Dreams," while "The Day We Hit the Coast" juxtaposes skull-crunching, drop-d aggressiveness with a cool falsetto vocal performance from Plaskett. But it was listening to an old demo tape of theirs in the band van one day that led the group towards recording raucous Clayton Park opener "From the Back of the Film". Initially four-tracked by Plaskett and Benvie in 1994, the album version is a T. Rex-styled barn-burner; its lyrics find Plaskett free-associating scenes of driving through the Rockies with a surreal, nearly violent episode he witnessed at a Halifax movie theatre.
"I went to see a movie by myself, at Park Lane, and a guy got up and threatened to shoot somebody else in the [theatre]," he explains. "There was a guy wearing some kind of ball cap and he was like 'Yeah, shut up man or I'll shoot you!' It was just this weird argument."
The songwriter continues of marking the experience in song: "You think about the situation in the United States, it's nothing to laugh at it. But [this] seemed so farfetched to me at the time. I juxtaposed that against another verse about being on this trip with my family. It was just a toss off."
Thrush Hermit's coast-to-coast tour will also see them reliving other Clayton Park highlights like McGettigan's hard-choogling "(Oh Man!) What to Do?", the off-the-rails go-go pace of Benvie's "Headin' South," and the epic twin-guitar outro of "Before You Leave," which Plaskett notes the band playfully referred to as "Layla 2" back in the day.
Plaskett is quick to note, however, that the band aren't just dredging up the past this fall. He'll be recording Thrush Hermit rehearsals when the foursome finally converges upon his Dartmouth studio, opening up the possibility of involving his friends on his next solo LP ("If I can enlist Thrush Hermit to play a riff, maybe it can be a part of [the album]"). He also laughs about the idea of writing a new Thrush Hermit song on the road and premiering it in Victoria, potentially their last gig ever. More than anything, he's just stoked to reconnect with his friends.
"When we get together we can rehash these memories and have some laughs on things that happened, but it's nice to have new [experiences]. Then it's not just simple nostalgia; it's actually generating a new chapter. That, for me, is the motivation."
Words by - Gregory Adams
Tour dates:
09/25 Fredericton, NB - The Fredericton Playhouse Theatre
09/26 Moncton, NB - Tide and Boar
09/27 Halifax, NS - The Marquee Ballroom
09/28 Halifax, NS - Marquee Ballroom
10/01 Ottawa, ON - The 27 Club
10/02 Ottawa, ON - The 27 Club
10/03 London, ON - London Music Hall
10/04 Toronto, ON - Danforth Music Hall
10/09 Winnipeg, MB - The Garrick Centre
10/10 Saskatoon, SK - Amigos Cantina
10/11 Edmonton, AB - The Starlite
10/12 Calgary, AB - The Palace Theatre
10/14 Vancouver, BC - The Imperial
10/15 Victoria, BC - Capital Ballroom