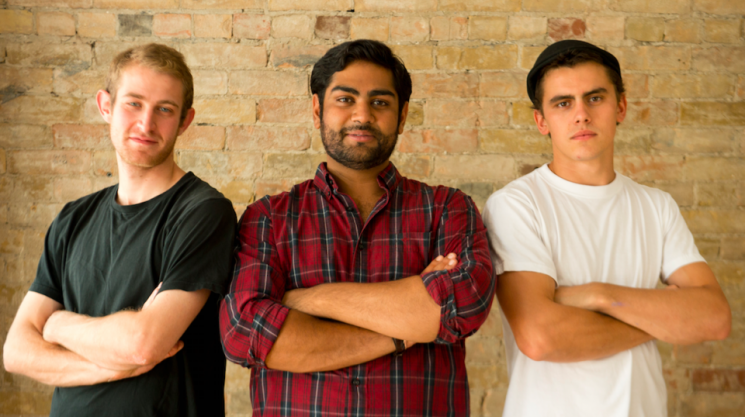 Wed, 09/03/2014 - 12:59 by Natasha Neale
Project Gallery is a contemporary gallery space located in downtown Toronto that focuses on showcasing up-and-coming artists whose artwork helps to develop and advance the contemporary art scene both in Toronto and abroad. 
The Project Gallery Collective will be working live at the Grolsch Open House this Thursday from 6 to 8 PM, alongside a variety of other Toronto-based illustrators. They will be unveiling a collaborative diptych, the final installment of the Faces of TO art activation series commissioned by Grolsch, which will feature an artful mosaic of many of the faces of Toronto. 
The gallery likes to exhibit what they, namely co-directors Devan Patel, Alex Buchanan and Callen Schaub, believe to be the future of contemporary art in Canada. They also work outside of the space to engage the public in the arts by organizing a variety of collaborative exhibitions, events and projects, like this one with Grolsch.
Project Gallery is already a big supporter of TIFF, particularly since Devan has worked with the festival for five years as a manager of U of T's Isabel Bader Theatre, but they all agree it's such a pleasure to be working with them in this new capacity, engaging people with contemporary visual artists and their practices in the appreciation and celebration of contemporary film.
"It is so excellent to see such celebration, anticipation and excitement around the arts during TIFF. Film is a phenomenal medium for its accessibility and incorporation of several of our senses. A relatively new art form, it is a stellar interdisciplinary example of artist producing masterfully alongside technological innovation. Of course we also appreciate film for its collaborative qualities—it takes a lot of time and people to put a film together, and there are a lot of different artists involved. As the Project Gallery Collective, we operate much in the same way and encourage interdisciplinary creative practices, so it's certainly gratifying for us to work on an event that aims to support and celebrate other artists."
The Grolsch Open House pop-up lounge is public and free to enter, with amazing free music programming, plenty of art installations, a variety of food trucks, and, of course, endless ice-cold Grolsch lager.
Grolsch Open House, Thursday September 4th, 6PM-11PM
SE corner of Blue Jays Way and King Street West