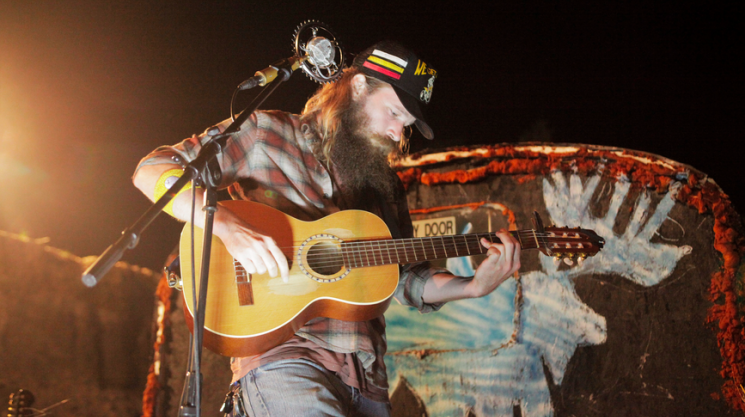 Mon, 08/11/2014 - 21:50 by AltaGrade
Singer/Songwriter Dustin Hamman, who performs under the musical byline Run on Sentence, has a lo-fi indie folk style that has drawn comparisons to Neutral Milk Hotel, Devendra Banhart, and Bon Iver. This year, Hamman scored his first feature film, Beneath The Harvest Sky, which is premiering in TIFF's Discovery section. He'll be performing at the Grolsch Open House this Sunday, as part of the TIFF Opening Weekend.
To Hamman, "Independent film is about the filmmakers being in charge of the end result. Some would argue that things like product placement and influence from investors can cloud the 'independence' of film, but as long as the filmmakers are maintaining creative control, I can't fault them for finding funding for their art. [Regarding the importance of independent film], I imagine it keeps the big studios on their toes by constantly reminding them that people still want art in their films. Without it, we might all be paying $14 to go sit in the dark and watch 90-minute infomercials."
He continues, "I'm here [at TIFF] primarily to attend the premiere of Beneath The Harvest Sky. In addition to scoring the film, I was granted the rare treat of being in it and being on location during the entire shoot. I got to know the cast and crew fairly well and made some wonderful friends in the process. That was a year ago and I've not seen most of them since, so I'm incredibly excited to celebrate the culmination of all of our hard work at the premiere this Sunday."
Dustin Hamman will be rocking the Grolsch Open House stage this Sunday at 4:30 PM, just prior to the Beneath The Harvest Sky film premiere. Be sure to come check him out!
Must be legal drinking age and have valid ID to attend Grolsch Open House