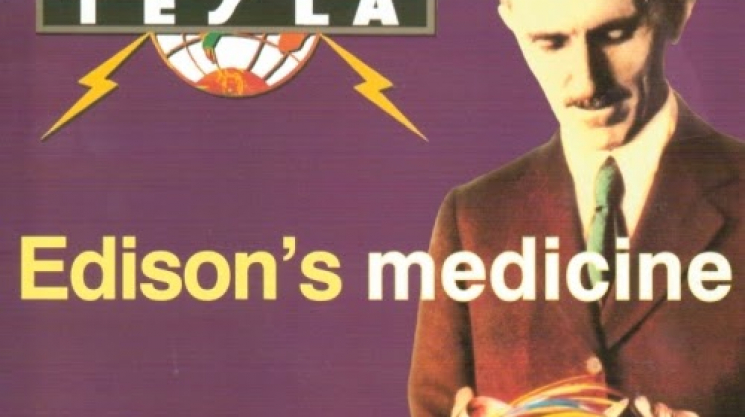 Tue, 12/13/2016 - 11:24 by karyn
How many metalheads does it take to change a lightbulb? That depends. Alternating or direct current, bro? Actually, let's just sit in the dark. After all, it means we're boycotting that scab Thomas Edison, who stole Nikola Tesla's ideas and was basically an all-around dick. What could be more metal than that? Well, how about a long-winded song about electricity's greatest rivalry from a band whose name immediately confirms their own bias? Tight, bro. Tight.
"Edison's Medicine", the band Tesla's 1991 tribute to, you guessed it, Nikola Tesla, rips Edison a new one from start to finish, and even includes a ham-fisted theremin solo that sounds like it was performed with boxing gloves. Too bad Tesla only missed Edison's death by about 60 fucking years. I guess it's possible the executors of Edison's estate shed a few tears after hearing this tune. We can hope, right? I mean, that would be pretty sick.
The song opens with Tesla vocalist Jeff Keith boldly finding Edison "guilty of crime in the first degree," before throwing in "second and third as well" for good measure. Can you imagine having such a pea-brained view of the criminal justice system that you believe in degrees of crime? Since the band stops short of accusing Edison of murder (what a bunch of cowards), I'm not really sure why they insist on leading us down this path. But, hey, it's not a bad line otherwise. Keith's jury then sentences Edison to serve out his time in hell. As if naming your band Tesla wasn't enough of a conflict of interest in this fight, Keith gets to pick his own jury? That's just fucked up.
Although this track admittedly gets pretty rocking, the video for "Edison's Medicine" offers up the real feast for the senses here. While the group delivers a straight shot of metal, viewers are treated to a series of news clippings and images documenting Nikola Tesla's legal wrangling with Edison over the years, in the hopes of finally receiving due credit for his work. If you ask me, patent dispute rock is an almost completely untapped genre, but what do I know? The band probably paid some grad student a few bucks an hour to dig up all this microfilm while they scored dope outside the library. It's still a nice touch, however dubious the educational value of the video might be. Would the "man outta time" himself, Nikola Tesla, have appreciated the effort? Fuck, no. Forget "Edison's Medicine", whatever that means, it's time for Tesla to move on. I know it's a bitter pill for them to swallow, but how about a killer jam about Elon Musk? I'm ready and waiting, boys.