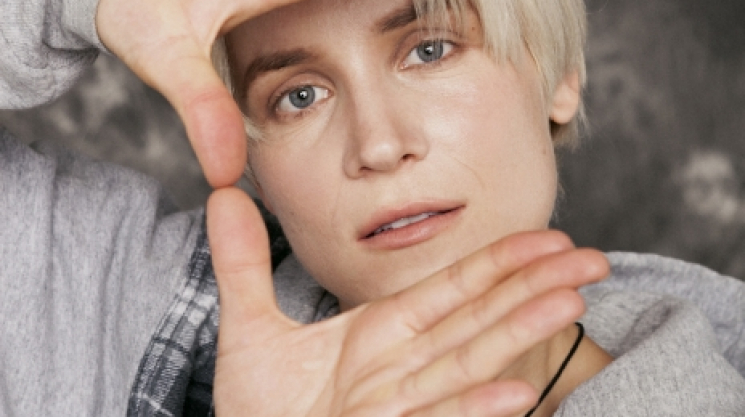 Fri, 04/15/2016 - 10:49 by karyn
Montreal artist Eve Thomas and photographer Richmond Lam have teamed up to transform 17 female models into modern versions of 90's male heartthrobs for their Poster Boys portrait series and the result is magical... disturbing... hilarious... angst-inducing. It's women pretending to be boys playing at being men for little girls.
On what inspired the series, Thomas says, "I've never been boy crazy but I've always been interested in girls who are boy crazy. The intensity of it all and how much of it is comes from within and how much is outside pressure. The Tiger Beat-style star system is so wild because it's this outlet for little girls' sexuality but also totally dismissed or ignored. I specifically remember the first Magic Mike coming out and people talking about the new frontier of the female gaze, about how Playgirl failed because women don't like just looking at photos, and just being like – Wait, then who the hell were all those boys plastering my girlfriends' bedrooms growing up I've been thinking about the project for so long but little things from the past year or so finally prompted me to do it with Richmond Lam, who's a friend and incredible portrait photographer: The whole '90s style revival; the popularity of androgynous style; different former child stars being in the news (like Andrew Keegan getting busted for selling kombucha); that NKOTB reality series 'Rock This Boat;' plus, some pretty terrible news about so-called adult male 'allies' that just made me want to listen to Backstreet Boys' greatest hits on a loop and never leave my room. All the stars aligned."
For Thomas, a great deal of prep work went into the shoot, especially studying poses and looking at old magazines, but the models themselves also took a lot of initiative, from practicing posing with accessories to working on their facial expressions. "They really inhabited those roles," she says. "Everyone got crushes on one another on set and most of them stuck around for a full-day shoot just to see the transformations. Lam and his crew had some great backdrops right out of a school photo session. Jessica Danielle Cohen did a stellar job with hair and make-up. She had her work cut out for her, turning women in their 20s and 30s into boys 10 to 16. Then Citizen Vintage helped out a ton with wardrobe, especially jeans and overalls (and co-founder Lara Kaluza made a great Taylor Hanson)."
Poster Boys kicks off at Gallery Never Apart in Montreal tomorrow night, April 16th. In addition to the portraits, the installation Idol Worship includes shrine-inspired sculptures from art collective #boycrush as well as video work from Amy Didemus, Boys Will Be Boys: Wet Nightmares, a portal into the echo chamber of frenzied teenage desire. For more info, check out posterboysprojects.com.
On a personal note, as someone who went to see The Client three times in the theatre, who sent away for an autographed photo, and who constantly dreamed of Brad Renfro arriving at my house in the suburbs of Boston in his private jet (yes, I believed a 12-year-old who had only ever been in one film had access to a private jet) only to saunter down the airstairs in his sleeveless plaid shirt and take my hand (in front of all my classmates, obv), I can say that I think this is amazing and am looking forward to/dreading reliving this angst-fueled frenzy of a time in my life. See you there.