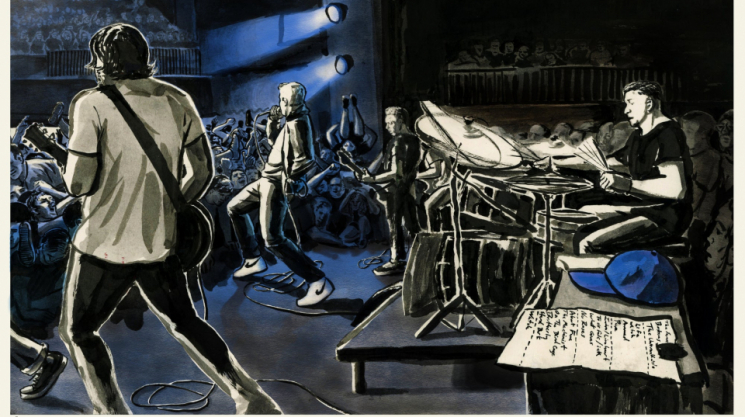 Thu, 08/01/2019 - 12:40 by karyn
Though not exclusively, Chuy Hartman's expressive, sweat-dripping illustrations of hardcore bands tend to be drawn from a side-stage perspective. There's a practical reason for that: self-preservation. A few years back, while out in the crowd sketching an intense Turnstile set, Hartman got clobbered by an arms-swinging pit boss. The punishing led the artist to reconsider his approach. 
"One big dude came over and elbowed me right in the brow. I had a mild concussion, got opened up. Ever since then I've got to get onstage," he tells ION, adding that numerous sketch books and drawings have become casualties to errant stage divers over the years.
Since 2014, Hartman has refined his methods across roughly 4,000 drawings that document L.A.-area performances of punk rock royalty and up-and-coming acts alike. Initially, the project took shape while Hartman was studying at Pasadena's ArtCenter College of Design, after one of his courses called for 100 location drawings a week. Looking to maintain a social life while under a heavy school load, the artist took a friend's advice and started pulling out their drawing pad at punk shows.
Hartman explains: "At the time, I wasn't just drawing bands. I was drawing everywhere—car rides, every time I went to a restaurant. My sketch book was always on me. I wanted to be able to draw anything that was in front of me and make [it] interesting."  His portfolio is a mix of raw black and white strokes, and full-colour explorations of sound and fury. Early on, Hartman had attempted to mix water colours and paint on-site, but poor lighting conditions and cramped spaces made things overly complicated. These days he'll draw up a few scenes at the venue, take a video of his surroundings for colour reference, and finish painting the pieces at home.
Hartman's style has also become more nuanced over the years. A 2014 drawing donefrom the balcony of a Descendents show, for instance, focuses on Hartman's hand and a show flyer rather than the ant-sized musicians off in the distance. More up-close-and-personal is the illustrator's impression of a recent reunion set from Have Heart. Vivid details include the motion-blur of Shawn Costa's drum stick hitting a hi-hat, conjuring the furious pace of the band. While his face is obscured, vocalist Patrick Flynn's body language is kinetic, knees bent in anticipation of lifting a pair of Nike-swooshed hi-tops off the ground.  The blue ball cap sitting on top of an amp head matches the cool glaze of periwinkle light covering an at-capacity crowd. At stage right, a fan cannon-balls into the fray. The energy coming off the page is palpable.
While Hartman can deliver hyper-realistic work—you can practically feel the scouring-pad scratchiness of Trash Talk member Spencer Pollard's stringy beard in this portrait—faces in his concert scenes generally aren't overly detailed. In part, this is because concerts are in constant flux.  After staking out his spot on the stage, he'll frame a page with the geometry of a venue, and then focus on the anatomy of the moving figures in front of him. After first experiencing his local punk scene as a 14-year-old fan, later playing guitar in acts like Sleepwalkers, and now by documenting countless sets through his art, Hartman is well versed in the "rhythm and repetition" of hardcore gigs.
 "You recognize that there are key postures," he says. "Each guitarist has their go to moves, whether it's a certain power stance or a certain way they jump. Even singers have their specific stances. When people are trying to sing along, they're usually pointing their finger at the singer. There's also a way that people move [while] doing stage dives. Although it may happen for a second, there's going to be multiple people doing the same thing."
Just as floorpunching has transcended generations, Hartman's art is a continuation of his family's illustrated legacy. Chuy is the grandson of animator and layout artist C.L. Hartman, who had originally worked with Disney before undertaking a 20-year run at Hanna-Barbera that included work on Johnny Quest, The Yogi Bear Show, The Challenge of the Superfriends, and more.  Sadly, he passed away before Chuy was born.
The younger Hartman's credits are likewise lengthy and impressive, and only growing. This year, he captured the cartoonish madness of a Misfits stadium show, complete with a massive decorative pumpkin, stacks of skull-adorned amp cabinets, and guitarist Jerry Only's famously lengthy devilock. Hartman's concert work also put him in touch with rapper Trinidad Jame$, for whom he's currently putting together paintings that are being unveiled alongside single releases. Hartman is also starting to sketch bands in the studio, first having acted as a fly on the wall during the recording of Culture Abuse's Bay Dream. Earlier this year he was invited to document a to-be-detailed project from Rancid frontman Tim Armstrong.
"Drawing bands has given me access to these musicians that I really admire," Hartman says appreciatively. "I feel like it's become a peer-to-peer relationship with a lot of different people. To me, that's the most special thing that came out of this entire series, along with having the best spot to see my favourite bands."