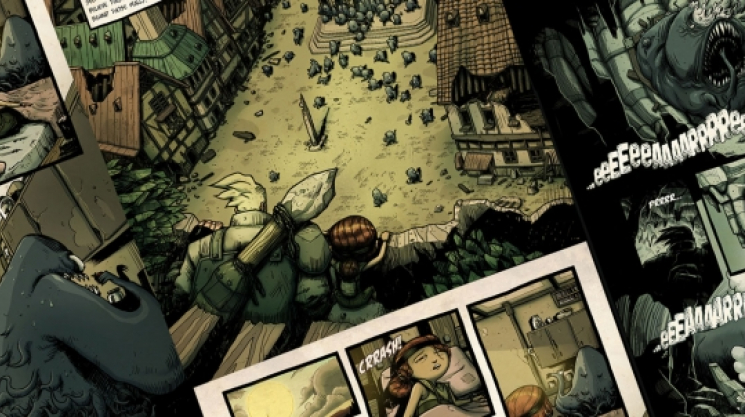 Wed, 05/11/2016 - 13:15 by vanessa
ION Magazine is proud to present Peter Ricq's, Once Our Land book launch and curated art show on Friday, May 13th at ONLOK Gallery. Once Our Land is a self published, 110 page graphic novel written and Illustrated by Peter Ricq, with the help of Sunny Shah's illustrations, Andrew Young's colouring, and Phil Ivanusic-Vallee's editing. Set in post-apocalyptic, 1830s Germany, the story focuses on two survivors, Ingrid, an 11 year old girl who never gives up, and Fritz, a 62 year old warrior with a big heart, as they battle each day against mysterious invaders that have surfaced and wiped out everything they once knew. This fantasy, sci-fi, action story is for both young and the young at heart.
Sticking with the theme of the novel, the art exhibit will feature artwork by over 35 artists from all over the world including: Japan, Spain and Colombia. If that isn't cool enough, kids under the age of 16 are invited to exhibit their artwork in a gallery setting, by bringing a drawing or painting of a monster to the gallery. The kids artwork will be will exhibited along side the artists that are showing in the gallery as part of the Once Our Land exhibit, and the kids peices will be priced for sale on the night. The best part is that the kids will receive 100% of the money from the sale of their artwork. There will also be prizes given out to lucky attendees throughout the night.
The event will be held at 1636 Venables St. between 7PM and 11PM, on Friday May 13th. With over 300 people anticipated to attend, we encourage you to show up early for this one. For more information and to RSVP, go here.