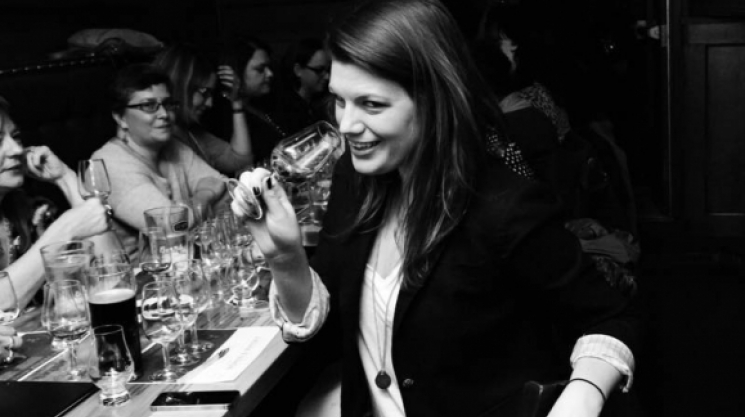 Mon, 04/18/2016 - 12:44 by karyn
 Jamie Johnson has been a whisky fan and enthusiast for a long time. In 2014, she decided to start up a whisky club in Toronto and called it Bourbon Thing. In addition to the whisky club, Jamie leads private and corporate tastings, and can often be found pouring samples at whisky events for some major brands. On top of all that, she is the co-host of a popular Whisky Podcast called The Whisky Topic with her friend and The Whisky Cabinet author, Mark Bylok. She also contributes regularly to the Whsky.buzz and schoolhousebooze.com sites.
 Where do you live?
Toronto, Harbourfront
Favourite breakfast spot?
Uncle Betty's uptown. I crave the breakfast in a bowl more often than I care to acknowledge. I'm a savoury breakfast person. It's like a big bowl of breakfast poutine, absolutely smothered in gravy. It's my kryptonite.
Favourite late-night eats?
 I will forever be a sucker for a Toronto street dog. Don't tell anyone how often I will swing by a hot dog cart on my way home from the bar.
What are some of your favourite things to do in the city? 
Mostly I eat and drink my way around town with a group of friends who also love to eat and drink. I can pretty much be found at The Emmet Ray, The Caledonian or Rush Lane most nights with friends.
One of my favourite things that isn't sitting at the bar (but still has to do with booze) is a "Detox to Retox" yoga class with the ladies of Schoolhouse Booze. After an hour of yoga, you do an hour of beer tasting. Brilliant.  And in non-booze related exercise, the National Ballet School runs public adult drop-in classes at their harbourfront studios and those are always fun.  
And for me, since I'm lucky enough to live at the lake, walking through some of the parks on Queens Quay is a terribly underrated activity, and it's actually quite lovely now that Toronto's waterfront has been revitalized.
Where is your go-to place for clothes shopping? 
I am terrible at clothes shopping. I hate it with a passion and wish someone would do it for me. I wish I could say somewhere very cool and hip, but I'm going to be honest and say that recently it's been Joe Fresh!
Drink of choice?
 Bourbon. Neat. Or an Old Fashioned. Also, with it being spring, and patio season right around the corner, I'm really enjoying some of the local craft brews. Augusta Ale by Kensington Brewing Company is a new fave, and Eephus by Left Field Brewery. 
Favourite local gallery or artist? 
I can spend a day by myself getting lost at the AGO. Toronto is so lucky to have such an incredible collection, and there are always interesting exhibits going on.   
What do you love about TO?
I am very much in love with Toronto. I find it vibrant, exciting and charming. It has a great pulse. I like that I can walk out my door and meet up with my friends within minutes at a great bar or restaurant. I like that I can still discover a new spot after living here my entire life.  
What's a spot that no longer exists that you really miss? 
I really liked Crush on King Street. It was a perfect spot to grab a nice glass of wine and some snacks after work. I'm also really bummed Geraldine closed. 
On the flip, what's a new place that you've discovered? 
BATCH on Victoria Street. It's got some nice beers on tap, and the snacks are great. Also, Burdock is a very cool spot -- brewery and concert venue.
 Photo: Rick O'Brien