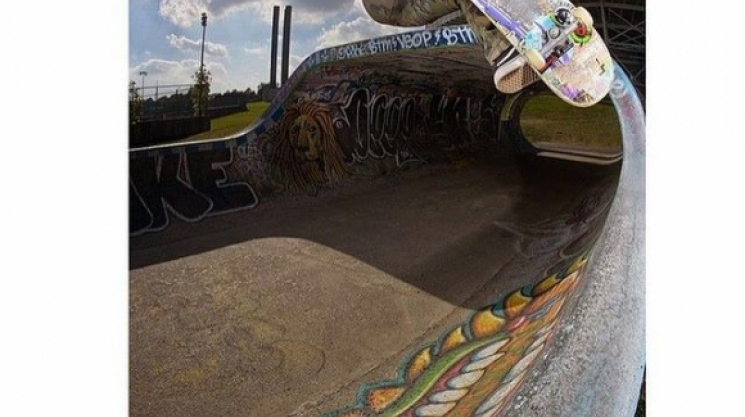 Tue, 05/24/2016 - 11:45 by karyn
The Local: a tête-à-tête with some of the scene's hardest working heroes.
Born and raised in Verdun, a suburb of Montreal, Barry is a professional skateboarder, boombox enthusiast, vinyl DJ and true Montreal legend in the skateboard community. He is known for his deep commitment to the city of Montreal skate scene and the Big O Pipe, a heavenly skateable tunnel that was created for the 1976 Olympics. Barry and his crew, Embassy Montreal, have a rich history embedded in the Big O concrete.
Where do you live? 
Plateau Mont-Royal, Montreal. Parc Laf local.
Favourite breakfast spot?
Gonzo Café located at 919 Duluth. It's owned by a homie of mine and boy, do they make a mean burger! Called the HANGOVER, this burger has the works with a fried egg in the mix. A must try! And just to mention, this is on the breakfast menu. Chill vibe, old skate mags and art shows, and bomb coffee!
Go-to for a late-night bite?
Boustan, for sure. Chicken shish taouk, garlic potatoes with a Cott black cherry soda!
What are some of your favourite things to do in the city?
Skating at the Big O is definitely one of my favourite things to do in the summer. I love walks with my fam in Parc Lafontaine, love to cruise around the city on my bmx with my crew enjoying the scenery of our beautiful city. Parc Laf is definitely one of my top spots to grab a Creemore and enjoy the trees. 
Go-to place for clothes?
Generally I get a lot of clothes through my skateboard sponsors, so to be honest I haven't really shopped in years, but when I do it's generally the thrift shop or I'll treat myself to a nice crisp lid from time to time.
Drink of choice?
Water, orange juice, Beau's Beer, dark rhum.
Favourite local gallery or artist?
My favourite local artists are Akira (rest in peace, brother), Chris Dyer, VC Crew, Sake, Zek, Stare, Sino, Gene Starship, Labrona, Other, Dave Cummings, Earthcrusher.
What do you love about Montreal?
I love that Montreal is a multi-cultural city. During the summer it's a nonstop happening place, with events, shows, street parties, BBQs and skate jams, and the Plateau is known all around the world for the most artists in one condensed area, constant pop-up art galleries and expositions, and rooftop art parties.
Shout-outs?
I'd like to shout out all struggling artists of Real City! Keep the dream alive because Montreal is a city of dreamers! Bless to Soula Rok, Drunk D, Big Al, Embassy MTL Fam, CBF and VB.
Intro by Big Al.