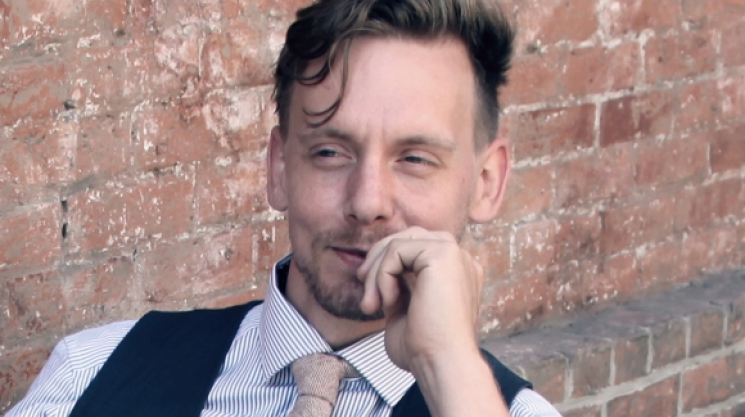 Mon, 05/09/2016 - 10:37 by karyn
The Local: a tête-à-tête with some of the scene's hardest working heroes.
Peter Ricq is an award-winning creative force based in Vancouver. Besides his work as a Visual Artist, he is also a Television Producer, Writer, Art Director, Designer, Director, Music Composer and Performer. PeterRicq.com
Where do you live?
Mount Pleasant/East Van in Vancouver.
Favourite breakfast spot?
I usually love to make breakfast. I consider myself a healthy breakfast chef. Lately though, after eight years of making breakfast everyday, I've been taking a break and end up at La Petite Cuillère (55 Kingsway). They have a ton of healthy choices and guilty pleasures. The staff is one of the friendliest I've ever had.  
Favourite late-night eats?
Lucy's 24-hour Diner (2708 Main)! I'm lucky that all my favourite spots are near home. I used to end at Lucy's at least twice a week and order a triple threat breakfast (3 eggs, three bacon, three toast and potatoes) at 3 AM along with a shake (peanut butter/vanilla). The staff was just as fun as all the other drunken fools there with me. Great atmosphere and the food was always satisfying. Whenever someone says they wanna go to McDonald's at 3 AM, I tell them "Fuck no, you aren't going there," and I usually convince them to go [to Lucy's] and they've always been satisfied. 
What are some of your favourite things to do in the city?
I love to bike around all year round, I love to skate in bowls on a hot summer day (Chinacreek Bowl, PNE bowl, Metrotown Bowl). I go climbing at The Hyve, I try to go see movies in the theatre, go to Biltmore, Cobalt, FOX Theatre, Fortune and VAL for shows. I go to a ton of art shows too obviously.
Where is your go-to place for clothes shopping?
El Kartel and Cole Taylor's closet. 
Drink of choice?
Beer and lots of it. I like local Lagers like East Van Brew, Postmark. Brassneck has a great Kolsh amongst many others. I also love Quebecer beers like Fin Du Monde from my home town.
Favourite local gallery or artist?
Local Gallery is between Untitled Artspace, El Kartel and Onlok. My Favourite artist is between Ali T Bruce, Shannon Elliot, Bad Blood Club, Andrew Young and the legendary Robert Valley.
What you love about your city and/or neighbourhood?
"I love how each time I get out of the airport and step outside, the air is soooooooooo fresh. Never happens anywhere else in the world."
What's a spot that no longer exists that you really loved?
I used to be part owner of a Bar/Restaurant called the Electric Owl. I miss it. We had great Japanese Fusion food like Japanese Poutine. We also had a bunch of great bands perform like Bob Moses, Flume, Conan Mockansin, The Growlers, Grimes and all three of my bands have had great shows there (HUMANS, Gang Signs and Ladyfrnd).
What's a new spot that you've discovered?
Box Car. It's right next door to The Cobalt and by the same owners. It's basically the best thing in Vancouver. If I hung out there everyday I'd wear a permanent smile on my face.
How do you think your neighbourhood has changed over the years?
It's changed so much. I moved here eight years ago and there was absolutely nothing here before. Now it's a real pleasant location, hence the name Mount Pleasant I guess. Olympic Village popped up and I think that's what might've started it all. The micro brewery law changed in BC and that's made it possible for these five amazing breweries (Main Street Brewery, 33 Acres, Brassneck, Red Truck and another I'm probably forgetting) to be in my little neighbourhood. Buildings, restaurants and art galleries are popping up everywhere. Bao Down is another great restaurant that just opened up on 2nd and it has a killer special brunch menu on weekends. 
Photo: Rosie Simon