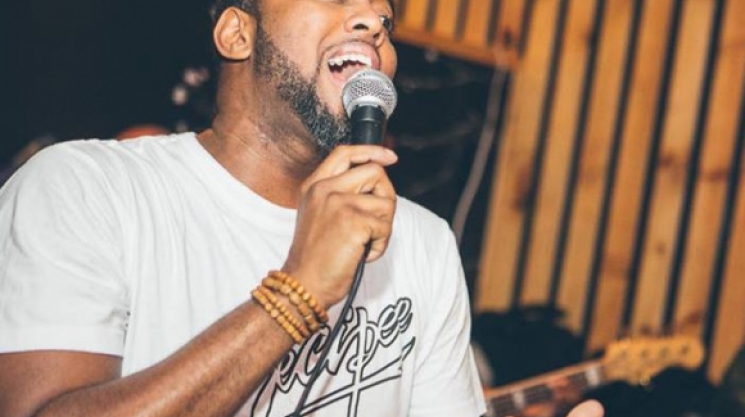 Mon, 05/16/2016 - 08:05 by karyn
The Local: a tête-à-tête with some of the scene's hardest working heroes.
Toronto born singer-songwriter, Omar Lunan, show layers of depth and an instantly memorable voice that exhibits surprising range in R&B, traditional reggae and even dancehall. By the time he was a teenager, the crooner joined a group that toured across Canada with acts such as Usher, 50 Cent, Foxy Brown, Ginuwine, 98 Degrees, and Canadian talent Kardinal Offishall, Glenn Lewis, Shawn Desman and Massari. After more than ten years, two Juno nominations, a Canadian Urban Music award, three compilations and an album, Debt, Sweat and Tears, Omar went solo and is currently recording projects with one of the city's most requested live music bands, The Recipee, with an anticipated release in Fall, 2016.
Where do you live? 
Currently Pickering, but I'm always in the downtown area performing, so I live there too!
Favourite breakfast spot? 
Mildred's Temple Kitchen. The staff is fun no matter how busy they are, and no matter how full you are, the side blueberry pancakes are insanely amazing!  The food at any time is worth the wait.
Favourite late-night eats?
Either Hong Shing or New Ho King for Western Chinese food, or Fran's on Shuter.  It's just so good after a long night of work, especially if there is a group of you that wants to eat together.  Fast, cozy and delicious!
What are some of your favourite things to do in the city?  
Checking out undiscovered spots in the city for music or good vibes. Hapa Izakaya on College is one of these places;  great food, DJ and live music on long weekend Thursdays.  
Where is your go-to place for clothes shopping? 
H&M on Queen or at the Eaton Centre.  ZARA as well.  I'm a tall guy, so basics are hard to come by.  I never lose in these places!
Drink of choice?  
1919 (Trinidadian rum aged with Angostura bitters).  Don't tell my Jamaican family.
Favourite local gallery or artist? 
Kwame Delfish.  His art can even be found on a coin for the Royal Canadian mint.  Whether hairstyling, drawing, painting, doing graphic design, he embodies and polishes everything he does. 
What do you love about TO?  
Toronto is ALWAYS doing something!  I didn't know until a year ago that there was skating and DJs at the Harbourfront in the winter.  How amazing is that?
What is a spot that no longer exists that you really miss? 
Guvernment.  The sound in that place alone for concerts is unparalleled.  I'll always remember going to parties or concerts in the summer because I knew the music would sound exactly as it was meant.
What's a new place that you've discovered? 
I can't say I've discovered it, but Revival has been pretty consistent with tribute nights (recently did Prince justice!), and parties are fun.  No overly drunk, elbow shoving sloppiness.