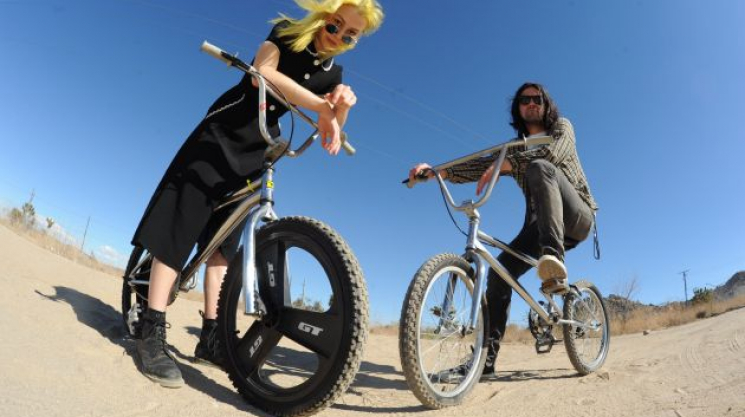 Fri, 02/08/2019 - 14:53 by karyn
Better Oblivion Community Center has come out of almost nowhere. The band, fronted by Conor Oberst and Phoebe Bridgers, spent some time over a year and half period quietly writing songs together in Los Angeles in between both of their increasingly busy schedules. With a surprise release last week, Better Oblivion Community Center is set to take their record on the road this spring and we caught up with Oberst and Bridgers in LA to discuss the new project, their community songwriting process, and working with your friends. 
"It's really crazy out there," Bridgers says with a laugh regarding the torrential rain coming down in LA. "On the other hand, though, it is kind of nice. A nice change from things becoming too Groundhog Day here with the weather." The singer/songwriter has had a whirlwind last couple of years. She released her debut album, Stranger In The Alps, to a lot of fanfare and spent 2018 releasing a devastatingly good EP and touring with Boygenius, a project she created with fellow artists Julian Baker and Lucy Dacus, which was also critical and commercial success. 
Conor Oberst doesn't need much of an introduction. A staple of the indie music scene since the the late nineties, Oberst has been consistently putting out quality music since then. As Bright Eyes he captured every young sensitive heart and as a member of The Faint, Desaparecidos and Monsters Of Folk, he cemented his career by prolifically crafting wonderful music and releasing an album of new material practically yearly. 
"We met through a series of mutual friends," says Bridgers, explaining their acquaintance. "Then we ended up going on tour together in January of 2017. After one of the shows we had a bit of a heart to heart, and I've seen Conor do this with a lot of musicians and I have a bit of a joke about it whenever this happens, as him and whoever he is talking to immediately form a new band together. Then a couple months later we started to write a song together and it just kind of snowballed from there." The songwriting process, for the record, turned out to be a fairly organic process. "It was very unique in the way that we would sit in a room together and write these songs start to finish," says Oberst. "There was no exchanging demos back and forth, it was a really old fashioned type of experience. We live super close to each other in LA so we would just meet up and write. Phoebe and her group of friends all kind of do that. When they have time, they meet up and write songs with no apparent thought of recording them or releasing them, just as a cool exercise."
Being a part of this kind of community made it easier for them to not have any expectations of what they were trying to do. "It was all so low stakes," explains Oberst. "No one even knew we had a project." The fact that this was something that either of the artists wasn't really talking about extended through to, and informed, the way they wanted to release the record. "Yeah, we were just working on it and because no one really knew about it we thought it would be a great way to put it out too. My label actually had a bit of a borderline intervention with me," Bridgers jokes. "They were like, 'Do you really want to do it this way?' They liked it a lot and were all, 'Do you really want to go on tour right away again?' And I was just like, 'Yes!'" Bridgers also really liked the idea about dropping the record out of nowhere and in turn not giving anyone a chance to have a presupposed idea of what it was going to sound like. "No one expected this from us, and myself and Conor both come from this singer songwriter background so I didn't want anyone to hear it and form an idea of what it would be like. The whole idea was to have this band separate itself from that singer songwriter mold."
Better Oblivion Community Center definitely separates itself from any sort of singer/songwriter type situation. The record feels like it's from a very distinct band. "We recorded in this house in LA that is a studio that belongs to Jonathan Wilson but still feels like recording in someone's home," Oberst says, explaining the process. "We were referencing a lot of different songs because we were wanting to bring out certain sonic aspects of the songs we were recording." Bridgers expounds, "When we were working on 'Exception To The Rule' we referenced a bunch of Brian Eno to inform that synthiness to it and then on a track like 'Chesapeake' we listened to a bunch of Big Star." All of this really added to the feel of the songs standing out from some of both of their past offerings. This new layer on their music though was really helped by the community of friends the pair had come in to record with them.
"We had some really talented friends come in. Our buddy Christian (Lee Hutson) came in and worked on some of the songs with us and we had a couple different rhythm sections come down. Griffin and Wylie from Dawes came in and Carla Azar who plays with Autolux and Jack White played on half of it with Anna (Butterss), who is this really cool jazz player in town." With that level of talent being available on call when it came to putting the live band together it was surprisingly just as simple. "Christian is gonna play guitar on this tour, which is great," says Bridgers. "Plus we have Beth Goodfellow playing drums. I recorded the boy genius record with Beth and just immediately fell for her. She came in to the studio, took off her shoes, sat down behind the drum kit and started eating a burrito and I thought to myself, I am going to go on tour with this woman." 
With that tour on the horizon, both Bridgers and Oberst seem very relaxed about taking such a new band on the road with them. "Our first show was hilariously Late Night with Stephen Colbert the other night." Oberst laughs, "It was super nerve-wracking but it went really well and we're super excited to start rehearsing with everyone in the next little while and go out on tour." When asked if there could be any looming Vancouver date getting added to their busy schedule, both Oberst and Bridgers immediately get animated. "Oh man, I would love to come play Vancouver again," says Bridgers, beaming. "It's one of my favourite places and actually has my favourite restaurant, Guu. Man, that place is so good!" 
Well, with any luck Vancouver fans will be able to see Better Oblivion Community Center on their tour, and in the meantime we can all bask in the wonderful music that these two creative and prolific artists have wonderfully and surprisingly sprung on us all.