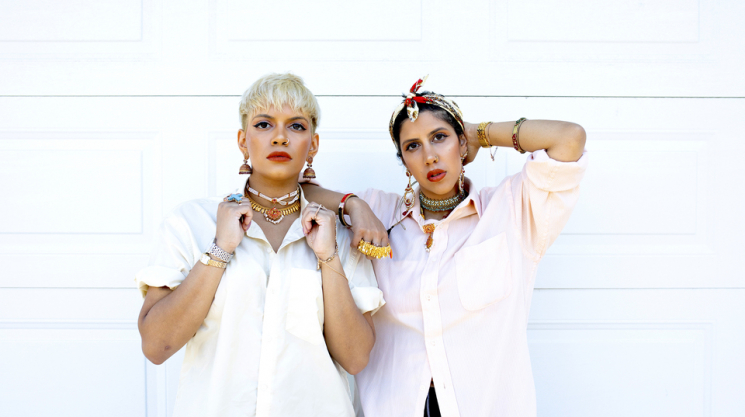 Thu, 12/19/2019 - 11:08 by karyn
No matter what you are into or where you live, there's always a certain pressure to find where you fit in. In this tough musical climate this is especially true. For sisters Eboshi and Contra, who are also bandmates in Cartel Madras, this was the case. Born in Chennai in the Indian state of Tamil Nadu and raised in Calgary, Alberta, the sisters discovered a shared love of hip hop and, through this love, found their places and how they are able to fit into them. Their sophomore EP, Age Of Goonda, was recently released via Sub Pop Records worldwide and Royal Mountain Records in Canada, and it's a bold, brash and brilliant collection of hard hitting trap and rap that encompasses their background, beliefs and community. Aimed at those who have felt like underdogs, immigrants, women of colour and the LGBTQ + community, the EP cements Cartel Madras not only as two unique and fresh voices in the genre but also showcases their innate skills as musicians, storytellers and supremely killer flow. 
 "We've been living in Toronto since July. It's been a good change. It's so different, and coming back to Calgary since we've been here, you can really see how different it is," explains Eboshi with a laugh when we reach her in her new home. "It's so much easier to organize things with people being out here," says Contra, who is in Calgary for a brief visit. "Everything is in Toronto and there are so many opportunities." These opportunities are something that Cartel Madras will definitely be taking advantage of. Age Of Goonda has been getting such a positive response that the pair intend to build on this momentum. Where Toronto is known for being the centre of the universe, Canadian industry speaking, listening to the sisters talk about their previous hometown that doesn't necessarily mean that Calgary is a slouch musically. "We weren't really listening to music in India because we were infants," Contra says with a chuckle. "We discovered everything in Calgary pretty early on. It's common for immigrants in Canada in general to gravitate towards hip hop and, to be honest, the hip hop community in Calgary is quite good." Contra and Eboshi were regulars at hip hop shows in the city while growing up and it was striking to them how supportive the community was. "People really support each other there," explains Contra, "but we weren't really a part of it until we became Cartel Madras." The sisters have always had their artistic and creative leanings and they played around with different mediums until it became clear that rap was the calling. "Before we threw our hat into the ring in Calgary we didn't know we could do that," says Eboshi. "It was all secretly in our room. We had been writing for a really long time before we started recording and we were doing that independently of each other and then showing each other. There was a feeling of we have to do this because nothing else is going to feel right." This inspiration was empowering for the duo. "We have to do this, we deserve to be in here," explains Contra. "We played around with other things, telling our story, twirling around with film and stuff, but rap was the one right vehicle that brought it all together."
 When the pair entered the Calgary hip hop scene as performers they had an idea of exactly what they wanted to do. "We wanted to create a space for us and other artists and started throwing our 'Sans Fucks' parties," says Contra. "It was great, every time we threw a party they would instantly sell out and we saw there was a growing need for this kind of thing." During this time Cartel Madras was constantly writing and recording. "The interesting advantage of us playing at home and touring before we released anything was that we had the chance to see what was working and what was connecting with the audience," explains Eboshi. "We did our first show in February of 2018 and released Trapistan, our first EP, in July of that year." Although that seems like a fast turnaround from debut show to debut record, Cartel Madras explain there was some fine tuning to be done. "It was still a season or two of working on the sound and refining and recording the sound," says Eboshi. "We were recording in our basement, this makeshift studio with gear everywhere that we rented from Long & McQuade, one speaker and one laptop, figuring out what we were doing." A fortuitous opportunity arrived for the band when they were excepted to attend an all women's songwriting residency on Whitby Island in Washington State. Eboshi has proclaimed in the past how amazing it was. "We were there for ten days. In the woods. We were like, 'Holy shit! I didn't even know I could unlock these levels." Exactly what were these levels they unlocked while there, the sisters explain it was a combination of this community of women musicians and producers and the ability to turn off any outside elements and focus completely on their craft. "I loved it! It was so amazing," exclaims Eboshi. "It was so unique. They give you food and a place to stay but otherwise there is no accountability, no workshops and a few other like-minded female musicians to talk with about what we do." Joining Cartel Madras there was UK-based electronic producer and DJ Little Boots and Merrill Garbus AKA Tune-Yards. "Everything is distracting all the time, just in life," she explains. "To be able to shut away in the woods and just to think about your art was amazing. To be a part of that process, just hunkering down with a microphone and writing bars to beats and to be able to do that for hours and hours uninterrupted was great." What came out of this residency as well as the countless other hours Cartel Madras spend on their art was the new EP Age Of Goonda. 
 The EP, a blend of trap, punk and hip hop filtered through the sisters experience and background, is not only a blast but also shows you a new side of what the genre can be and because of it the sisters have found some surprising fans and supporters. They have toured with such a diverse array of acts, from Mac De Marco and Hollerado to experimental LA-based hip hop act clipping. "There's such a total difference between these crowds depending on who we are performing with," says Contra, "but the thing is we will always have the best time at any show we play, hopefully allowing the audience to do the same. The funny thing though is when we are playing to the more indie crowd, you can see the audience having fun but just not knowing what to do with their bodies," she says with a laugh. "Where as the clipping audience totally knows what to do." One constant stream of support for the group has always been the LGBTQ+ community. "Before we got signed and before the attention we've received because of that, the LGBTQ+ scene supported us the whole time. That community, which we are very much a part of, knows how to party to what we are doing." Throughout these new experiences, playing for different communities around the world, Cartel Madras are interested in what this experience is for the audience as well. "The audience is forced to confront something very new. Brown women doing trap, our specific brand and material and it's all new to the majority of them. After the shows, we'll have these people come up and tell us they felt several different things throughout the show and sometimes they don't know exactly what all these were but they know they want more."
 If there is only one thing you can say about Cartel Madras and the Age Of Goonda EP is that you definitely want to dig back into it after the initial listen. The dynamic between the two, the production, their effortless flow, it all works together flawlessly. With their move to a new city, the partnership with their new labels and with having each other to bounce ideas off of, like they have been doing their whole lives, we can only expect to hear more and more about this fantastic group in the future.
 Cartel Madras play Fortune Sound Club in Vancouver tonight, Thursday, December 19th, at 8:00 PM.