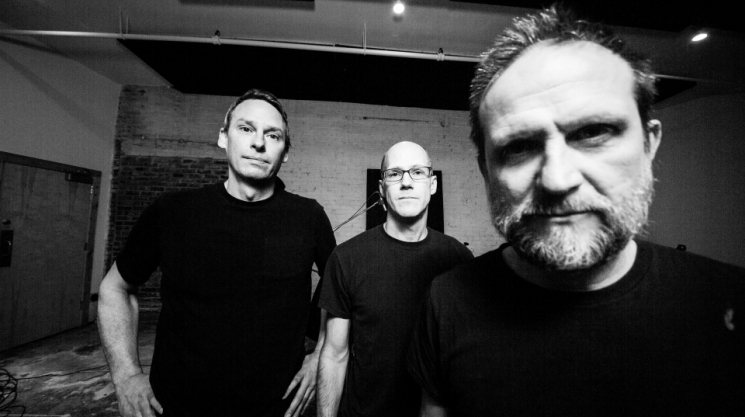 Wed, 12/11/2019 - 09:28 by karyn
Giants Chair vocalist/guitarist Scott Hobart explains that his talk with ION is the first of two Skype meetings he has scheduled on this particular day. Naturally, our conversation concerns his emo band's Prefabylon, the Kansas City trio's first full-length effort since 1996, as well as a handful of upcoming reunion dates.
Considering his day job building sets as the Resident Technical Advisor for a children's theatre, it's revealed that the second call will be about bringing another classic back to the stage: The Little Mermaid. Still in pre-production, the undersea musical is scheduled to surface in the City of Fountains next summer; Hobart is currently helping adapt the theatre's bi-annual production of A Charlie Brown Christmas (it alternates with Rudolph the Red-Nosed Reindeer). He laughs when asked if there are any links connecting Prefabylon to restaging Snoopy's seasonal favourite.
"Ideally you can prefabricate the set and plug it right in," he says of the latter, adding of his workmanship, "I'm getting better at that. I've learned over the years of walking backwards towards this, it's like, 'Oh yeah, it would've made much more sense if I had built that in two parts.'"
Prefabylon is unquestionably building off the foundation of Giants Chair's first act — Jawbox-inspired post hardcore grooves, mathematical time-shifts, spiral staircase six-stringing— but Hobart, bassist Byron Collum and drummer Paul Ackerman aren't merely interested in rehashing the past. That's not to say they weren't tempted, though.
Formed in 1993, the group issued a handful of 7" singles and a pair of albums, developing a following touring alongside likeminded indie bands like Boys Life and Shiner before winding down around 1997. Giants Chair have maintained an on-again/off-again pace ever since, but they've steadily become more active since the middle of the 2010s. In early 2016, friend and recording engineer Duane Trower asked the trio if they wanted to re-record their 1996 sophomore effort Purity and Control. It had been the engineer's first full-length project, and he feels he could've done a better job; Hobart admits that the initial sessions were rushed ("It has more of a demo quality, but it has its charm, I suppose"). While intrigued with upgrading their old tunes, forging forward with fresh material was even more enticing to Giants Chair.
"We considered trying to redo [Purity & Control], but ultimately we thought if we're going to go to all the trouble [of relearning the record] it would probably be more fun, and less work, to just write some new stuff, you know?"
After getting their feet wet with a pair of online singles in 2017 ("The Streets", "Featureless Horizon"), Giants Chair tracked the 10-song Prefabylon with Trower at his Weights and Measures Soundlab. From a sonic perspective, it crushes like anything off of Purity and Control, with opener "Rust Belt Rooster" pummelling through an awesomely off-kilter 5/4 groove and a blur of overdriven chord work; "Russian Racehorse" gallops past the post with equal fervour. However, some of its most satisfying moments are it most subtle, as with "Time Lapse Shadows", a skeletal beauty that finds Hobart coaxing a mesmerizing shiver of feedback out of his guitar amp during its solo section.
An Americana-esque twang has also crept into Hobart's current work with Giants Chair, possibly a by-product from spending two decades singing in the honky-tonk scene with his Rex Hobart and the Misery Boys. Giants Chair's albums weren't slight on sung vocals, but he's definitely dialled down on the sandpaper-coarse shouts of his youth.
"It was all about raw emotion," he says of his once larynx-shredding ways. "[For Prefabylon] I've tried to sing without trying to be virtuosic. I just wanted to respect the melody more."
Pushing forward to make their first full-length since the '90s has added more depth to Giants Chair's back catalogue,  but Hobart does note that getting the band back together as its members are reaching the tail end of their forties is "pretty much a mid-life crisis archetype". Furthermore, the new music video for Prefabylon's driving "Kids Running" intercuts modern-day performance footage with scenes from the band van circa 1995, during a west coast trek with fellow Kansas City act Boys Life. The guitarist was cautious about getting overly sentimental while scanning old VHS tapes, but is ultimately happy to toast Giants Chair across the years.
"I guess it's full on nostalgia, but it's also a lot of fun to do that time travel," Hobart says. "There were more giggles than tears when we were putting this together."
Words by Gregory Adams
Photos: Giants Chair