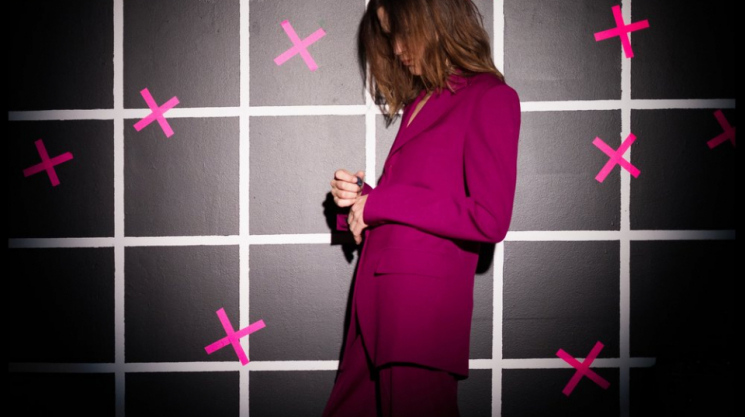 Mon, 11/04/2019 - 09:45 by karyn
While Juliana Hatfield has maintained a steady presence in the indie rock landscape since debuting with the Blake Babies in the mid '80s, the past couple of years have been especially prolific for the songwriter. In 2017 she issued Pussycat, a call to action against systemic abuses of power and the then-freshly-instated Trump administration; next was 2018's Juliana Hatfield Sings Olivia Newton-John, a lighter-in-mood but heavyweight testament to how much she honestly loves her childhood fave. 2019 began with the sterling fuzz-pop of Weird, but she's closing out the year with Juliana Hatfield Sings the Police—sessions for this latest covers set were tracked between U.S. and European tours for the all-originals Weird.
After releasing four albums in just over two years, it's perhaps not surprising when Hatfield tells ION she's booked time off from her guitar to concentrate on other creative ventures. This fall she's writing a series of essays and non-fiction pieces, with one exploring how the ring of tinnitus impacts people's daily lives—hers included.
"I've been asking people I know about if they've had it and how they've dealt with it, what it's like for them," she says over the line from her Boston-area home. "I know people who have to sleep with noise to drown it out; I know a guy who has to have a fan or an air conditioner on when he goes to bed, otherwise the sound is too loud in his head. For me, it's in my left ear only. It's a very faint, high pitch note—an A-sharp/B-flat. I noticed it in early September; for a while I thought it was something in my environment, like some appliance noise. Or maybe it was something in my building, some electrical sound. At some point, I realized it's in me."
Hopefully tinnitus is a temporary affliction for Hatfield. The music of the Police, however, has been stuck in her consciousness since adolescence. As its title implies, Sings the Police has the solo artist re-contextualizing some of the English New Wave power trio's greatest hits ("Roxanne", "De Do Do Do, De Da Da Da") with her own instantly recognizable, exuberant vocals. Though too young to have caught the Police on the club circuit, she was among the thousands of fans that saw the group when they dominated the charts and MTV.
"When [debut album] Outlandos D'amour came out in 1979, I might've been a little too young to appreciate it. It was pretty rock, and I was more into Olivia Newton John and the Carpenters. I may have gone backwards from Synchronicity, which was '83. I do remember that when I started to go see them in concert, they were playing enormo-domes and stadiums—that must've been the Synchronicity tour."
This appreciation for Sting & co. should come as no surprise for long-time Hatfield fans. Nearly 20 years before affixing "Every Breath You Take" with faux-flute synth sounds on Sings the Police, she delivered a crunchier version of the iconic Synchronicity single as a Japan-only bonus track for 2000 solo LP Beautiful Creature (it surfaced in North America on 2002 best-of Gold Stars).
"When I first recorded it, I was heavily immersed in grunge," Hatfield recalls. "I was loving Dinosaur Jr....I loved Nirvana, like everyone else on the planet. I was playing Les Paul's through Marshall stacks. That was what I was feeling, so I did a grungy version."
As this latest version came together, Hatfield once again appreciated the eerily ambiguous nature of Sting's lyrics ("You can see it as a love song, or you can see it as a stalker song"), and developed a new arrangement incorporating the mellotron patch on her microKorg keyboard and "a cruddy guitar sound." She adds: "Flutes and crud— that's my idea of what I'm heading towards sonically."
Elsewhere on Sings the Police, the newly-spacious strumming on "Roxanne" highlight its chorus' exquisite three-part back-up harmony; the frenzied lead trills of "Landlord" pay homage to the Police's punkish pub rock roots;  Hatfield's take on deep cut "Hungry for You (J'aurais Toujours Faim Pour Toi)" has the artist once again flexing her French skills (see "Fleur de Lys" from 1995's Only Everything, or the Blake Babies' 1991 cover of blue-eyed soul group Grass Roots' "Temptation Eyes").
Hatfield notes, however, that not every cover was recorded with the greatest of ease.  For instance, after a frustrating first pass at "Next To You" with live backing, the solo artist re-envisioned the cut with the steady motorik snap of a drum machine.
 "I did a version with a drummer and a bass player, and I just didn't like it. It sounded really lifeless and pointless. The same thing happened with 'Can't Stand Losing You'," the musician reveals, adding how programmed beats circumvented the thankless task of trying to recreate the scalpel-sharp precision of Police drummer Stewart Copeland. "When I tried to get too close to the original feel it wasn't working. I'm not the Police! I also don't have any experience playing or listening to reggae, so that didn't feel authentic either."
Despite the rhythmic differences, Hatfield and the Police's value systems often overlap. While the trio's "Rehumanize Yourself" was written in response to the anti-immigration rhetoric espoused by the UK's National Front party in the 1980s, it resonates deeply with the themes Hatfield recently explored on Pussycat. She says of connecting the protest song to today's political climate: "It seems very current, the stuff about white nationalism and police brutality—stuff that's happening right now in my country."
Hatfield's focus is presently on finishing her non-fiction prose, but she gets back on the road early next year to support both Weird and Sings the Police. The musician also admits that it won't be long before she tries her hand at writing another LP. Given the circumstances, get ready for some synthesized flutes and world of wonderfully cruddy guitar tones.
Words by Gregory Adams
Photo by David DoobininPhoDDto by David Doobi
Photo by David DoobininPhoto by David Doobinin