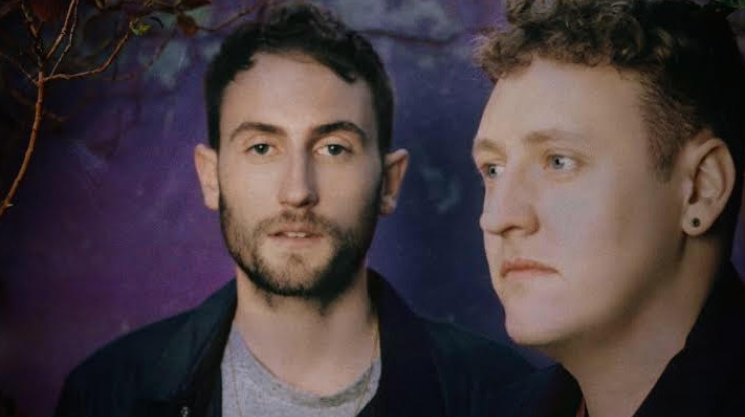 Thu, 02/21/2019 - 12:05 by karyn
There is a lot of trial and error that bands and artists go through when trying to create the thing they hear in their heads and make that thing sound the way they envision it. In the case of Maribou State it has almost been an entire career of trying to figure out what that is. Their new album Kingdom Of Colour is an expansive, warm and beautiful journey that conjures up a late night/early morning walk home from the club or party when the entire world seems to be filtered with a hallucinatory and beautiful light, and that just may be the way that members Liam Ivory and Chris Davids have always heard it in their own heads. 
"We have been playing in bands together since school," says Ivory, in his amiable and soft spoken way when reached at his home in London, UK. "They weren't very good mind you," he laughs. "Just punk rock bands in school. We had wanted to do more though with them, even during those times, so we started to add keyboards and drum machines to see what we could do." Originally from Hertfordshire, the duo met in school and immediately formed a bond over music. "We toured with different bands for a long time and always tried to do this thing, because we really like dance and club music and wanted to try to bridge the gap between those and rock," Ivory explains. "We tried this with a bunch of different groups and found that it just wasn't working like we had wanted but we had an idea of where we wanted it to go so we this project was the next step."
When asked how the band approaches their process, Ivory explains that it's always different song to song. "It really varies, we don't have a real set way of writing. It could sometimes stem from a sample or a vocal melody or something as simple as a drum loop." What Maribou State does exceedingly well is capturing all these things rolling around their heads and making them sound so warm. "That warmth is just from us trying to make things sound as full and organic as possible. It is all in the way we record the tracks, the gear we choose to use and even the samples we use. We aren't always sampling from other people's records but often from ourselves, then we want to deliver this all with as much live instrumentation as possible."
Maribou State's recording approach also reflects how the band wants to play live. They have toured throughout North America in the past but mostly doing DJ sets as a duo. "It's been really exciting touring the new album. We've been on the road a bunch but approaching this now with understanding the technical aspects of it better, being able to push the production more, adding players and performing all new material. It's been a challenge and exciting to try to figure these songs out for a live setting. Some of the parts were done so long ago so a lot of it at the start was us just sitting down and figuring out how to play these songs again," Ivory chuckles. 
Touring also played a really big role in the creation of the new album. "There wasn't initially a thematic line that ran through the record but after sitting with these songs for awhile we realized that it was all these reflections from travelling and all these different parts of other cultures that we got to experience. The songs became like postcards from different parts of the world. We love traveling and it's great to be able to do it together and be inspired by different music and places all over the world."
Even though Maribou State has been travelling the world the last while and performing their songs in different cities, they do their best to keep their connection to their scene at home. One of the stand-out tracks on Kingdom Of Colour, "Turnmills", has been used to draw awareness to an initiative called #SaveNightlife from The Night Time Industries Association. In a surprisingly similar situation to what we deal with in Canada, Ivory explains, "The landscape of the nightlife of London is pretty bleak; we've lost hundreds and hundreds of venues around the city -- especially on the East side of the city there's so many shut down. There's nothing in place to protect these places. So we've been working with this organization to raise awareness and they lobby the government to have more rules in place to keep venues protected." When asked if they've noticed if this is helping, Ivory says, "It's such a large scale issue that it is hard to know what their direct impact on it is but recently the mayor of London has made a rule that any new development is directly responsible for its own sound proofing instead of venues in and around these developments. So, that is encouraging."
As the band readies to hit North America this spring, including a show in Vancouver at Fortune Sound Club on February 23rd, their excitement to show everyone what they are working on is infectious. "We have this full live touring band. It's me and Chris and another vocalist and a live drummer and bass and percussion. It's how we always envisioned it from the start and it's really exciting." It's very exciting for the rest of us to see, and hear, that their constant trial and error has paid off.