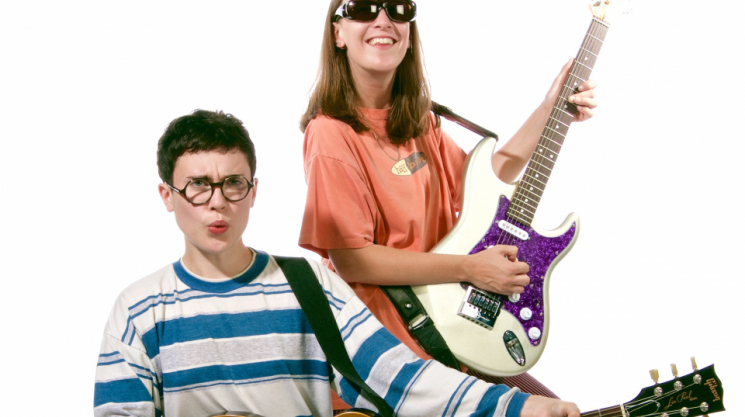 Fri, 02/15/2019 - 09:03 by karyn
From thumbing through curiously flame-embroidered leather guitar straps, to crushing drum fills on electronic drum pads, to picking up a pack of guitar strings, Partner's video for "Long & McQuade" is instantly relatable to anyone that's killed an afternoon at their local music store. But even while it's a universal experience on the whole, the Windsor, ON-by-way-of-Sackville, NB twosome of Josée Caron and Lucy Niles went extra CanCon on the track by specifically shouting-out the titular national chain. Cushioned between lines about its sweet selection of goods, the pair sings the store name an impressively absurd 18 times in just over three-and-a-half minutes.
"We always thought it would be funny to write a song about Long & McQuade because it is such a Canadian reference…A huge amount of it is just the fact that the hook sounded good so we decided to keep it," guitarist-vocalist Niles tells ION of big-upping the instrument hub, while reinforcing of this pure admiration, "We did not get paid by Long & McQuade to make this song."
As the first tease to Caron and Niles' forthcoming Saturday the 14th EP, which follows 2017's Polaris Music Prize-shortlisted In Search of Lost Time, "Long & McQuade" is a fitting next step for the self-professed "post-classic rock" act. Juxtaposing subtle acoustic strums with screaming guitar solos and arena-made drum hits, the track plays in the same vein as Guns 'N Roses' electrified take on Bob Dylan's "Knockin' on Heaven's Door," but made for gear heads. To be clear, though: while Caron is seen in the video furiously bending out leads on an ivory-white Jackson King V, the guitarist's gold top Les Paul—fittingly purchased from a Long & McQuade–– is her most prized piece of equipment.  
Clearly, Partner is comfortable wrapping a little bit of goofiness around their guitar pop. In addition to plenty of fuzz-gilded hooks, the pair's debut LP was rife with humorous anecdotes about faking sick on a school day to catch paternity tests on Maury  ("Daytime TV"), or the regret of finding your roommates' ultra-personal playthings ("Sex Object"). While Saturday the 14th apparently won't feature any off-beat skits like their full-length's "Piss Pants Tampon", Niles notes that the mini-release is "even less serious" than In Search of Lost Time. The EP's title, however, isn't a reference to the z-grade 1980s horror satire of the same name, but rather the weird way we observe superstitions.
 "We originally titled it [Saturday the 14th] as a tribute to our manager—she and her mom were both born on Saturday the 14th. It seemed funny to us that one day [i.e. Friday the 13th] could be so fraught with meaning and the next day doesn't mean anything at all—unless you're our manager or her mom, in which case it's your birthday. So we were kind of exploring the idea of meaninglessness."
Despite this, Niles adds: "I would say we put a huge amount of stock in superstitions, or contemporary legends and all that stuff. We try not to tempt fate, and we always take things as a sign."
Partway through the video for "Long & McQuade", a long-haired store clerk points to a sign suggesting the Jackson-toting Caron not crank her way through a spirited run-through of Lynyrd Skynrd's signature "Free Bird." Thankfully, the band has a tune in their songbook to bust out at the music shop instead of something so traditional.
Lucy Niles sounds off on Partner's traditions and superstitions
1) "We always knock on wood. It's one of the most popular superstitions out there in general." 
2) Salt over the shoulder: "This one is meant to drive away evil spirits. If a pinch of salt a day keeps the spirits at bay, that's a small price to pay." 
3) Enchanted items: "[I have] a pair of lucky underwear." 
4) Wish chips: "They're folded over chips that you can make a wish [on]"
5) "One of our strongest beliefs is that if a song by Melissa Etheridge or k.d. Lang comes on, that is good luck and we must accept it as such."
Partner's 'Saturday the 14t''h arrives April 5 via You've Changed Records
Tour dates:
02/20 Vancouver, BC - Fox Cabaret*
02/21 Nanaimo, BC - The Queens
02/23 Victoria, BC - Lucky Bar
02/24 Seattle, WA - The Vera Project *^
02/25 Portland, OR - Holocene *^
02/28 Los Angeles, CA - The Hi Hat *^
03/02 Santa Cruz, CA - The Crepe Place *
03/03 San Francisco, CA - Noise Pop Fest *^
04/13 Toronto, ON - The Danforth Music Hall +
04/18 Saskatoon, SK - The Capitol Music Club +
04/19 Edmonton, AB - The Starlite Room +
04/20 Calgary, AB - The Palace Theatre +
04/22 Nelson, BC - Spiritbar +
04/23 Kelowna, BC - Sapphire Nightclub +
04/25 Kamloops, BC - Cactus Jacks +
04/30 Red Deer, AB - Bo's Bar & Grill +
05/02 Regina, SK - The Exchange +
05/03 Winnipeg, MB - The Garrick +
* w/ Dude York
^ w/ Blushh
+ w/ Wintersleep
Photo: Kate Killet