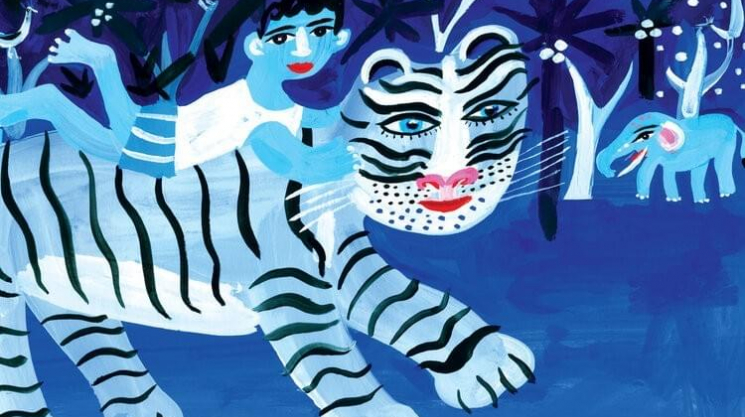 Wed, 10/14/2020 - 13:47 by vanessa
There are plenty of recurring themes threaded into Walter Martin's fifth full-length, The World at Night. Given its title, the record naturally has a nocturnal motif, but home decor pops up a couple of times, too.  On "Little Summer Fly", for instance, an acoustic guitar melody is accompanied by a shortlist of the singer-songwriter's favourite things, including a gilded picture frame. On the other hand, the joyfully lilting, conga drum-slapping "That's All I Need" has Martin ready to forsake all material possessions—including any "weird picture frames"— in favour of quality time with his loved ones. This begs the question, how strange does a frame have to be to get the ol' heave-ho?
 "When I said 'weird picture frames', I was thinking about crappy gifts, just some ugly picture frame," he says with a laugh over the line from his personal recording space in Brooklyn. "I think I just really like picture frames. I have about a million frames on the wall at my house." 
When asked about his home's next installation, Martin happily reports that UK artist Christopher Corr just sent over the original paintings used for The World at Night's layout, including the cover image of a boy riding a cyan tiger across a midnight blue landscape.
The fine arts have clearly influenced the body of solo material Martin has produced since the 2014 dissolving of his former band, the Walkmen. On 2016's Arts & Leisure, he mused on the Masters—whether singing about Michelangelo chipping away at his David, or reminiscing on gallery walks past John Singleton Copley's toothy Watson and the Shark. On The World at Night, he's introducing listeners to the immersive collages of Stewart Lupton, Martin's former bandmate in cult garage act, Jonathan Fire*Eater, who sadly died by suicide last year at the age of 43. It's a specific piece of Lupton's, currently hanging in Martin's studio, which inspired the album's magnetic "The World at Night (For Stew)". 
"I have this collage that Stewart made that his parents gave me after he died. I started writing about the world of that collage— it's sort of a nighttime scene with animals. I wanted to be right in the world of the collage, really," he explains.
Above the song's echo of parlour-style piano, we hear about a donkey drinking from a moon-lit pool, and an assortment of foxes and fireflies spilling into the environment. As the track further unravels upright bass, violins, and the slightest of hi-hat hits, Martin alludes to his friend with bittersweet beauty: "with every flicker of the sky, a ghost goes ghosting by/and that is why I love the world at night."
Martin and Lupton first banged around D.C. as teenage band The Ignobles, but moved to Brooklyn in the mid '90s after morphing into Jonathan Fire*Eater. Though their major label debut, 1997's Wolf Songs for Lambs, underperformed in the mainstream, their catalogue has recently been given a major reassessment via a Third Man Records reissue campaign. While they had stayed in touch since the '90s, Martin and Lupton firmly re-established a bond during the last few years of Lupton's life; "The World at Night (For Stew)" is Martin's attempt to maintain the connection. "It's a longing to communicate and stay in touch through music and art, which is a lot of what we worked in," he says.
Later on the album, Martin tackles family history on "The Soldier," a seven-minute epic unpacking the extraordinary life of his grandfather-in-law. The arrangement is subtle, a breezy guitar strum complemented by whispering woodwinds and orchestral minimalism, but Martin fills the gaps with freeform recollections of the soldier's travels from Staten Island to Iwo Jima during World War II. While there, he discovers the body of a Japanese fighter in a cave, finds a photograph of a child inside the opposing soldier's pocket, and begins to weep. It goes on to detail how he started a family back in the U.S. with the sister of one of his friends from the Army Corps; the eldest of their five children died young, so they raised her daughter, who is revealed in-song to be Martin's wife; he now spends summers gardening with his great grandchildren. By song's end he's sharing a beer with his army friend at his birthday party, looking back on a full life, his "young heart overcome with both joy and sadness."
"The Soldier" is stunning and endearing. A key part to its charm is Martin's stream-of-conscious pace as he delivers the details ("I didn't want it to be totally nailed down," he says). He'd originally been unsure of the song, questioning its length and lack of rhyme, but was encouraged by his wife and album producer Josh Kaufman to include it on The World at Night. Eventually, his grandfather-in-law gave him the thumbs up, too.
"It took me a while to get the nerve to play it for him," Martin says of the sprawling, personal piece. "He's a 96-year-old guy who has a lot of life under his belt. I felt like a punk telling his story, but he really liked it. The one thing he said is that if he'd known I was going to write it, he would've embellished his story a lot more."
Words by Gregory Adams