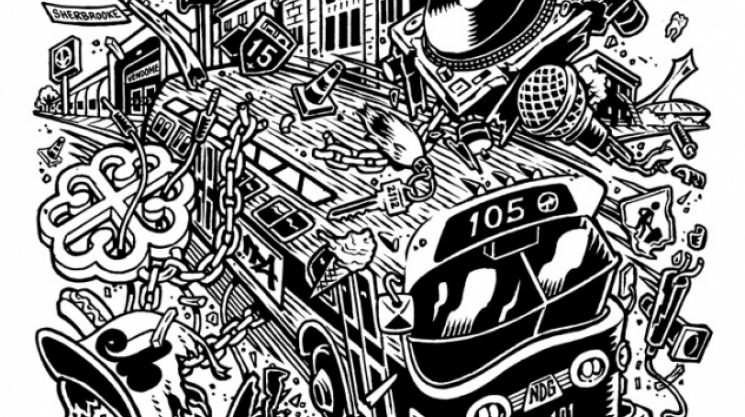 Fri, 09/15/2017 - 10:20 by karyn
If you lived in Montreal in the 90's, it was pretty much impossible to not be familiar with Shades of Culture -- the dynamic hip-hop trio hailing from Notre-Dame-de-Grace (NDG), Montreal. Over their 11-year reign, these stage mongers performed at over 2000 events and are renowned for helping to pioneer the Montreal scene. They were on the first cover of Vice back when it was called the Voice of Montreal, were the first band on the cover of the Montreal Hour, and were featured on the cover of the Montreal Mirror as well. From 1992 to 2003, this trio completed four cross-Canada tours, sharing the stage with Bad Brains, SNFU, Trigger Happy, Ten Foot Pole, Eminem, Backstreet Boys, Gangstarr, KRS-One, Jurassic 5, and The Beatnuts.
Tomorrow, September 16th, Shades will be elating hip hop fans and nostalgia-lovers with a performance at Sessions 375, a free, all-ages POP Montreal/Greenland Productions outdoor BBQ in downtown Montreal. To commemorate their trip through the eras, Shades has collabed with renowned Montreal illustrator Jason Wasserman on a fresh design to celebrate their NDG roots. We spoke with Revolution about their reunion and what his vision was for the finished artwork.
So tomorrow you, D-Shade and Storm are reuniting as Shades of Culture. Why now?
It was just great timing. It's a celebration of Montreal's 375 years and the 25 years since we started Shades. So much has changed in the past two and a half decades both in terms of the city and our lives, but when we get together it doesn't feel that different.  Almost a year ago the three of us got together and recorded a video and three new songs, and this is going to be a great time for us to share the new stuff, but also do the classics. The nostaligia factor is gonna be big, I think.
To commemorate your 25th anniversary you hit up Montreal illustrator Jason Wasserman to create a really amazing design. What was your vision for it?
Back in the mid-90s we released a song called "Island I'm From," where we give shout outs to a lot of classic spots in Montreal and NDG. Now 25 years later, I wanted to see a throwback to some of our most loved stomping grounds and memories. A lot of those places don't exist anymore, but they were a big part of me, and I think the same can be said for D-Shade and Storm. I've always had a great relationship with Montreal's Station 16 Gallery and I've often admired Jason Wasserman's work there. He has a really crazy attention to detail and a lot his stuff is really Montreal-centric. He knows the city really well and has this amazing ability to include all kinds of Easter eggs so that you never quite see everything the first time around. I told him what I had in mind and he nailed it.
What do you think the vibe will be like at the show tomorrow?
It's gonna be really laid back. I honestly think it'll be a great reunion of not only the three of us, but our friends, families and all of the people in the scene who have grown up with us. Some reminiscing, some jokes about how old I look, hopefully a lot of excitement for our Wasserman design, and, of course, some great music!
Limited edition T-shirts and prints will be available at the show and will become available online here Saturday at 5pm Est.  The Shades of Culture set is part of Sessions 375 :Greenland Productions/POP Montreal BBQ:
12h Buffalo Hat Singers
12h45 Raza Jazz de Montréal
13h30 Orkestar Kriminal
14h15 Klô Pelgag
15h Shades of Culture
15h40 Aba & Preach
16h Bonjay
17h Lunice
18h Kid Koala's Vinyl Vaudeville
3450 Rue Saint-Urbain, Montréal