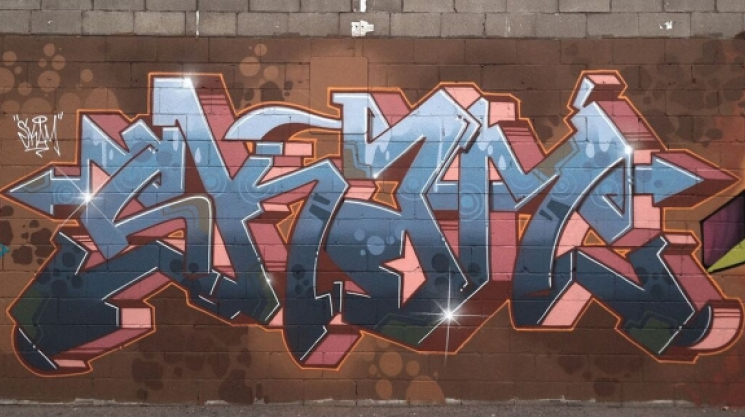 Mon, 01/18/2016 - 12:47 by vanessa
Skam
In hip-hop culture, the 1980s were known for influential acts like Run-D.M.C, who announced the beginning of the new school of hip-hop music, and Public Enemy, known for criticizing the American media and having politically charged lyrics, let alone all the other great acts of that time. New York City was the number one source for anything to do with hip-hop because it was the birthplace of it. "It began in different neighbourhoods. But we all had one thing in common. We wanted to be famous," says MICO, a key figure in New York City's subway art movement. And though social media wasn't there to publicize all that was going on across the world, everyone was somehow, someway influenced by what was going on in New York. If you were into hip-hop culture, you looked up to The Big Apple.
Skam, one of the longest lasting graffiti artists in Canada, hasn't stopped or slowed down since he started in 1992, and still takes great influence from the city that never sleeps. Now owning a shop that sells spray paint and with thousands of pieces under his belt, Skam's number one passion in life remains graffiti. "I still paint every week and I haven't missed a week in about five years," he says. "I still keep it real by doing the New York traditional graffiti style. Now in 2016, because graffiti has been diluted with so many different styles, that foundation style I do, it's being lost. And that's crazy."
When asked what place or value graffiti has in big center cities like Toronto, Skam responds without hesitation: "It's important. I think it's now part of young people's lifestyle and that's the art that they go to. It gives life to boring streets and alleys." This reality wasn't always true. Graffiti used to be a lot more underground. "Back in the 90s, though Toronto was the center-point of graffiti and all urban hip-hop-related art forms, graffiti was also ghetto or gang-related." Ontario's capital had many firsts back in the '90s when the movement started in Canada. Unfortunately, graffiti jams from back then like 416 Graffiti Expo, for example, all only lasted about five or six years. From that point on, graffiti writers were not only getting less support, but the quality of writers was also going downhill. Standards were being lost and with the mid-'90s and early 2000s came street art and its wheatpasting and stenciling.
Today, T-Dot has street art and graffiti in its streets and a lot has changed from the old days. Artists now can actually make a living out of their art thanks to companies sponsoring them and spreading the word about the culture. Art galleries also play an important role, finally recognizing the art. However, bylaws have been implemented in Toronto throughout the past five years making it mandatory to buff graffiti off public spaces or properties if the Arts Council in place judges it's bad graffiti. "Now that Rob Ford is out of office, I don't think the city is going to change that [the anti-graffiti law]. He set the standard and now the city is profiting off the tickets." Yvette Farkas, author of "Toronto Graffiti: The Human Behind the Wall," asks in an unpublished interview for a Toronto magazine: "Is it right to tell (not ask!) a home or business owner to paint over anything on their walls which isn't sanctioned by the city within 72 hours or risk having the City send out its own painters and then send you the bill through your taxes?" These are new issues people have to deal with. Otherwise, Skam feels like the city is somewhat behind street art, but deplores the fact it doesn't support the graffiti scene the same way. "They kind of want to eliminate the lettering and the hip-hop part of the urban art, to only have the big colourful murals. […] It's wack. Real graffiti artists are losing their identity."
In Skam's pioneer, renowned artistic opinion, nowadays everyone is trying to hop on the bandwagon. He wishes to see newer artists paying their dues like the old school guys did. "Back in the days, it was all about skill. There were battles and it all came down to can control. That's how we regulated graffiti. There were no tapes, projections, stencils, computers or brushes involved. It was just you, the wall and the can. That's how you battled. And that's how I think it still should be." Pop culture is making everything bigger and bigger, but that doesn't mean people shouldn't know the history of the art or forget their roots, for that matter. It's a question of respect. While some things never change in this complex, hierarchical culture, others stay in perpetual motion.