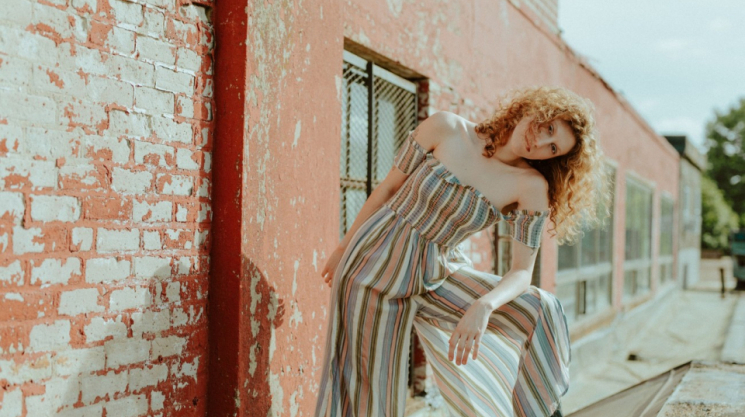 Tue, 06/09/2020 - 17:09 by vanessa
The opening lines of Squirrel Flower's "I-80" find songwriter Ella O'Connor Williams unsure of her drive, relaying over a lithe, detuned acoustic strum, "lyrics failed me, so I gave up poetry and ran west on I-80". It's worth noting, however, that this exists as the opening track from sophomore collection I Was Born Swimming—Squirrel Flower's first for iconic indie hub Polyvinyl Records. In actuality, Williams' songbook is overflowing, with the artist explaining in a call with ION that demos are currently pouring out of her in the lead-up to a European tour. Even so, she'll admit that doubts on her direction occasionally creep into her thoughts.
"I go through periods of time where I'm so frustrated with poetry and music, and I'm not sure why I do it, or what it's for," she says over the line from her Arlington, Massachusetts dining room. "Of course, I always return to it. It's been like that my whole life— it's in me and there's no way to escape from it."
Growing up, Williams was surrounded by her family's rich musical history. Her grandparents are accomplished classical musicians; her father, Jesse Williams, has toured for years as a bassist on the jazz and blues circuit --he plays bass throughout I Was Born Swimming, and currently tours as a member of southern roots outfit North Mississippi All-Stars. When she was a teenager, Williams taught herself how to play folk tunes on an acoustic guitar. She soon started dropping in on open mic nights in the Boston area, and began releasing music on Bandcamp. Before leaving to study at Iowa's Grinnell College, an aunt and uncle gave her a vintage Stratocaster. The sonic possibilities of the gift pushed Williams' music into new territory, and inspired her to rebrand as Squirrel Flower.
"I started playing it, experimenting with tones and reverb, and had also been listening to a lot of [ambient drone-folk artist] Grouper at the time. I could get these really amazing sounds with this instrument in a way I couldn't with an acoustic. It opened up this whole musical language for me."
The open, reverberated tones of 2015 debut EP early winter songs from middle america reflected the starkness of a frigid Iowa landscape. For 2016's Contact Sports, she melted speakers after dialling up the distortion tenfold. I Was Born Swimming blends both approaches, comfortably weaving between spare, echo-heavy tone experiments ("Home") and fuzz box-cranking, cymbal-cracking folk rock ("Honey, Oh Honey"). 
Squirrel Flower currently exists as a revolving cast of musicians supporting Williams. Though her dad supplied bass lines to I Was Born Swimming, she hadn't met session drummer Matt Barrick (Fleet Foxes, the Walkmen) and guitarist Mike Bloch (Here We Go Magic, War on Drugs) until they all converged upon New York's Rare Book Studios to record. 
"We didn't practice at all; we just got into the studio and started. It was all very organic, and a lot of the parts were improvised. It was really cool to do that with people I hadn't met—We immediately had to trust each other so much [because] we only had five days in the studio." 
Williams highlights the intuitive bond between the players on "Seasonal Affective Disorder," which she describes as a "beautiful, rolling, ambient jam session." She adds: "I'm happy with how that turned out; I'm really excited to play that song [live] and get Grateful Dead-y with it. "
Much of Squirrel Flower's latest is concentrated on movement. The songs themselves were written across Iowa, Massachusetts, and New York; many, like "I-80" and "Headlights", are literal road songs. One of the album's most visceral journeys is its "Streetlight Blues", which contrasts the distance growing between two people with imagery of insects smacking against the incandescent zap of a neon light. 
"Like all of the songs, it's about change, motion, and movement, this experience of something ending and knowing it," Williams explains. "Watching these bugs go towards this light they're attracted to, and literally hitting the light and dying? It's this morbid image, but there's a lot of poetry in it."
Turns out lyrics haven't failed Squirrel Flower after all.
I Was Born Swimming sees release January 31 via Polyvinyl Records.
Words by Gregory Adams