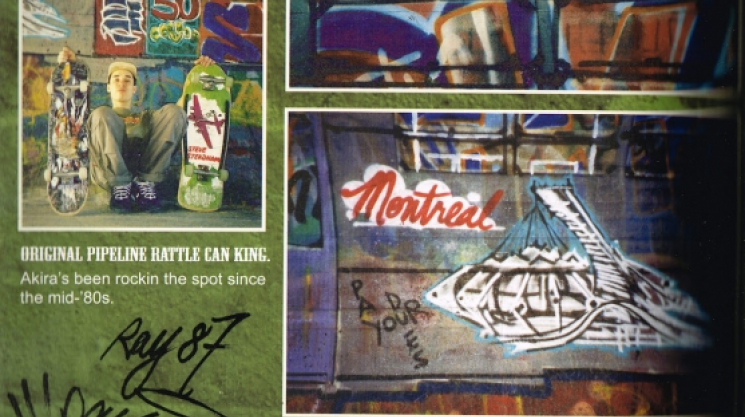 Tue, 05/24/2016 - 13:02 by karyn
In this week's The Local, we heard from Montreal skater Barry Walsh about his favourite things to do in the city, which of course includes skating the Big O pipe -- a skateable concrete tunnel that was created for the 1976 Olympics. Together with friend and fellow skater Marc Tison, Barry put together an amazing book about this legendary and notorious skate spot called Pipe Fiends: A visual history of Canada's most infamous skate spot, and this year mark's the 10th anniversary of its release.
While the book is timeless, sadly the lives of the people who contributed so much to the skate and graffiti culture that make this spot so amazing are not -- a poignant reality that hit home with many back in April with the passing of Raymond "Akira" Betts, an artist and friend to the Big O who recieved significant props in the book.
If you don't have a copy of this already on your shelf, the 10-year anniversary is the perfect excuse to pick one up and admire the amazing shots of the O and the O's devotees over the years -- maybe even taking an extra minute to give a shout-out to Akira's memory.
You can grab a copy from Mudscout Media here.
Photo: Barry Walsh, Pipe Fiends