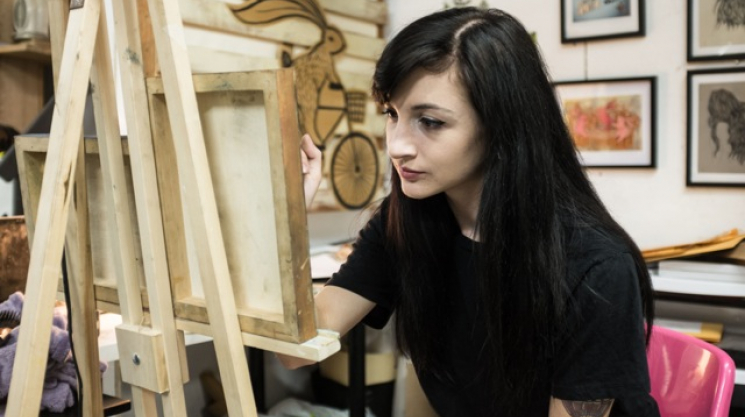 Thu, 09/04/2014 - 13:12 by Natasha Neale
Today's the day! TIFF has officially begun, folks. Torontonians and visitors alike will be flocking downtown to partake in all this great festival has to offer. The hub of activity will be stretched along King Street W., which has been transformed into a pedestrian promenade featuring curated art works, pop-up performances, food trucks and, yes, the Grolsch Open House.  
Tonight, to get the party started, the Open House will be featuring live illustrations from a variety of emerging artists, including Toronto's own Emily May Rose.
Emily May Rose is an emerging illustrator in her fourth year at OCAD University. Her work comes in a variety of formats, including comics, hand-painted signs, apparel designs, and gallery settings. On her excitement in being a part of the festival, she says, "This is incredibly gratifying for me. In making pictures, I never only look to other pictures for inspiration. I've been inspired by all kinds of artists throughout my life, in film, music, visual art, every medium really. We're all creatives, and we're all aiming to produce beautiful things for the world to look at, and the world's never going to stop wanting to look at beautiful things. So I support and celebrate artists to continually be inspired by them and see them make the world a more beautiful place."
Come on down to the Grolsch Open House to celebrate the inaugural night of TIFF 2014 and see Emily May Rose in action. The weather is looking fabulous, so grab your favorite people, make your way to King Street, get yourself an ice-cold Grolsch at the Grolsch Open House lounge, and enjoy some live art and free music programming. Live illustrations by emerging artists, including Emily May Rose, will be happening from 6pm to 8pm.
Grolsch Open House, Thursday September 4th, 6pm-11pm
SE corner of Blue Jays Way and King Street West