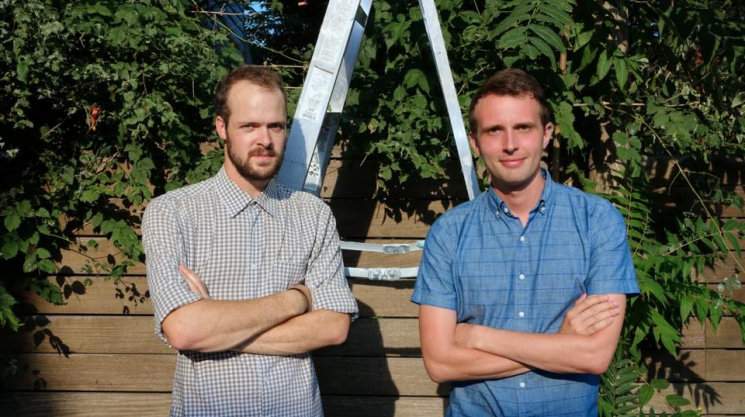 Thu, 09/04/2014 - 15:02 by Natasha Neale
Oliver Pauk and Michael Vickers are visual artists who collaborate on management of the Akin Collective studios and also on multiple fine art projects. Oliver's work mainly involves photographic, installation, and video-based elements, and has been exhibited in Canada, the United States, and Europe. Michael's addresses the seductive and poetic qualities of form. Recent exhibitions include Push and Pull at Mercer Union (2014) and That Same Small War Within You at Truck Contemporary (2013). Together, Pauk and Vickers' projects employ sculptural, installation, and projection-based elements involving industrial materials, geometric patterns and manipulations of light and colour. The team will be showcasing their talent tonight at Grolsch Open House, a part of TIFF Festival Street.
"We're definitely fans of TIFF. It's been awesome to see the festival develop over the years to become a very major international event. We feel honoured to have been asked to contribute. […] Building our installation is going to be really exciting for us. We're both really happy to be playing a part in an occasion that is so important for our city. […] Also, we have a couple of friends whose films are showing in the festival, so that makes it even more exciting."
It's beautiful weather, it's [practically] the weekend and it's the inaugural night of TIFF 2014. Come on down to Grolsch Open House after work for a cold Grolsch Premium lager, some delicious food truck eats, free music programming, a comfy lounge area, and live installations and illustrations by amazing Canadian artists like Oliver Pauk and Michael Vickers. Live artist illustration will be happening between 6pm and 8pm.
Grolsch Open House, Thursday September 4th, 6pm-11pm
SE corner of Blue Jays Way and King Street West.